Press release
New deputy chair for Natural England
Professor David Hill appointed as Deputy Chair of Natural England.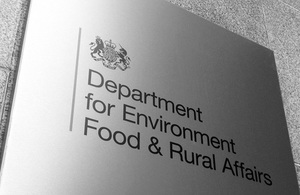 The Secretary of State for Environment, Food and Rural Affairs has appointed Professor David Hill as Deputy Chair of Natural England. The appointment will run until 30 September 2012.
The appointment of Professor Hill has been made in accordance with the provisions of Schedule 1 of the Natural Environment and Rural Communities Act 2006. 
All appointments to Natural England are made on merit and political activity plays no part in the selection process. The appointment has been made in accordance with the code of practice laid down by the Commissioner for Public Appointments. Professor Hill does not hold any other ministerial appointments 
Notes  
Natural England is the statutory body with responsibility for enhancing and managing the natural environment.
Board members are paid £12,136 pro rata for 37 days per year. As Deputy Chair Professor Hill will receive additional remuneration of £4,920 for an increase in time commitment of 15 days per year
The position of Deputy Chair has been vacant since December 2009, when Mr Poul Christensen, the previous Deputy Chair was appointed as Chair.
The Board of Natural England currently consists of the Chairman and nine members.
Biographical details
Professor Hill is a Natural England (NE) board member, representing NE on the Board of the Joint Nature Conservation Committee and sitting on their Audit and Risk Management Committee. He is a Director of the Yorkshire Dales Rivers Trust, a member of the RSPB and BTO and a life member of the National Trust. He runs an ecological consultancy company, is Chairman of the Environment Bank Ltd and was previously Chief Scientific Adviser to RPS Group plc. He is a Fellow of the Institute of Ecology and Environmental Management, and has published extensively on ecological issues.
Published 1 February 2011