Press release
New dementia campaign launches as research reveals the true cost to business of dementia
Public Health England (PHE) and Alzheimer's Society join forces in a major new campaign to help create a more dementia friendly society.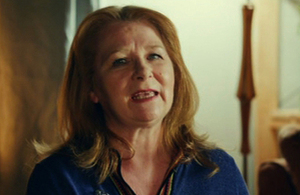 Today (7 May 2014) the campaign releases new research showing signs of a shift in willingness from business to become more dementia friendly. A report compiled by the Centre for Economics and Business Research (Cebr) for Dementia Friends showed that:
most businesses have already provided or would consider providing a range of support to carers of someone living with dementia. A total of 87% of businesses surveyed have or would consider letting carers work flexible hours
more than half of businesses would consider providing a range of support to dementia carers such as flexible working hours (63%), extended leave (61%), working from different locations (53%) and counselling and support (51%)
around 18% would consider paying for respite care
the average person diagnosed with dementia has been in their current job for at least 9 years. The relatively rapid progression of the disease from diagnosis means that it is inevitable that many individuals affected while still working will have to take early retirement at some point, however with support from employers they may be able to keep working for longer
These proposed changes will be welcomed by England's carers, who are struggling to fit care into busy lives:
carers spend 28 hours a week on average caring for someone with dementia
most (51%) are also working; these employed carers spend an average 18 hours a week caring on top of their jobs
over a quarter (27%) of businesses surveyed have employed someone who needed to make adjustments to their working patterns in order to care for someone living with dementia
the hours lost due to carer commitments equates to £1.6bn to English businesses each year
Jeremy Hughes, chief executive of Alzheimer's Society said:
The fact that thousands of workers in this country are juggling caring responsibilities without support and understanding from their employers is frightening. We're all beginning to talk about dementia, however, society is not yet fully supportive of people with dementia, either in the workplace or in everyday life. I'd love to see everyone become Dementia Friends, and make life that little bit easier for people with dementia.
Jeremy Hunt, Secretary of State for Health, said:
Dementia isn't just a health condition – it attacks the fabric of our society and can take a huge toll on the families and friends of those affected by the disease. I am urging everyone – families, communities and businesses to come together to ensure that people with dementia can continue to live fulfilling and rewarding lives.
Duncan Selbie, chief executive of PHE, said:
Our research shows that there is a real public desire to do more to help people with dementia live well in society. This campaign will help people understand the issues faced and give them the information they need to support people in their community with dementia. Businesses can encourage staff to become Dementia Friends through a suite of online videos, addressing the common challenges faced by customers with dementia, such as paying for goods or filling in forms. It is hoped this new tool will help businesses play their part in creating a dementia friendly society, and that by better understanding the condition they can adapt their businesses and thrive.
The research is released on the same day that some of England's best-loved performers are starring in a new short music film, part of which will be airing as an advert for the first time tonight, that will urge the public to become Dementia Friends.
I get by with a little help from my friends
Celebrities including Ray Winstone, Chris Martin, Lily Allen, Ruth Jones, Michael Vaughan, Ruth Langsford & Eamonn Holmes, Leighton Baines, Meera Syal, Simon Pegg, Paul O'Grady, Fiona Phillips, Sir Terry Pratchett, Amanda Holden and Alesha Dixon will perform the iconic Beatles track 'I get by with a little help from my friends.'
Gina Shaw, a former nurse with dementia who appears in the film, says:
People across the board assume that if you've got dementia that is it, and you can't do anything yourself; that you're going to be helpless and unable to function. That is actually not true. Because of the wonderful network I have around me I actually feel supported and safer somehow. It would be a dream if everyone could take some time out in their day to watch the short film and become a Dementia Friend to help others like me.
The film will encourage viewers to become a Dementia Friend – which means gaining an understanding of the challenges faced by people with dementia and learning a few useful tips to help make life better for those living with the condition. To become a friend, individuals watch a short online film, which explains what dementia is, how it affects individuals and what people can do to help those living with the disease. Once they've watched the film, they then enter their details in order to receive a Dementia Friends badge (to show their support), and 'Little Book Of Friendship', which includes further ideas and tips on how to help people with dementia. Alternatively, people can attend a face-to-face awareness session run by Alzheimer's Society in their area.
The initiative forms part of the Prime Minister's Challenge on Dementia and builds on commitments declared at the 2013 G8 Dementia Summit, which included a call to improve the quality of life for people living with the disease.
To become a Dementia Friend, visit the Dementia Friends website. The full film of 'With A Little Help From My Friends' will also be available to view on the site.
Ends
Notes to editors
For more information at launch, please contact campaign press office on 020 3003 6502 or Alzheimer's Society's Press Office on press@alzheimers.org.uk or 0207 423 3595.

For more information on becoming a Dementia Friend, visit the Dementia Friends website.

Public Health England's mission is to protect and improve the nation's health and to address inequalities through working with national and local government, the NHS, industry and the voluntary and community sector. PHE is an operationally autonomous executive agency of the Department of Health. www.gov.uk/phe Follow us on Twitter @PHE_uk.

Alzheimer's Society is the UK's leading support and research charity for people with dementia, their families and carers. It provides information and support to people with any form of dementia and their carers through its publications, National Dementia Helpline, website, and more than 2,000 local services. It campaigns for better quality of life for people with dementia and greater understanding of dementia. It also funds an innovative programme of medical and social research into the cause, cure and prevention of dementia and the care people receive.

To complete the study, the Cebr analysed the following data:
NHS Health and Social Care Information Centre's 2009 to 2010 Survey of Carers in Households
data on hours per week spent caring
information on how carers' ability to work is affected through either a reduction in hours worked, taking on fewer responsibilities at work or having to quit employment altogether
median salaries of carers based on their age
employment rate data by age band
median salaries of the estimated number of staff diagnosed with dementia
a YouGov business survey of HR decision makers in small and medium enterprises and large firms within the private sector. The YouGov Plc sample size was 1,010 HR decision makers and the fieldwork was undertaken over the period between 28 March 2014 to 6 April 2014 through an online survey. A total of 88% of the responses were from businesses in England
For further information on methodology, or to speak with the Cebr, please contact the campaign press office noted in point 1.
Published 7 May 2014