New deal will help older people live at home for longer
Helping older people to continue living comfortably in their own homes.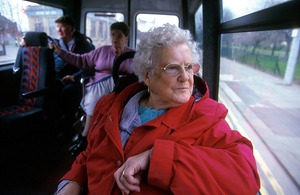 Housing Minister Grant Shapps has today (3 January 2012) launched a new deal to help older people to continue living comfortably in their own homes - with particular support for those leaving hospital.
With nearly 1 in 5 of the whole population expected to be aged 65 or over by 2020, ministers are determined to ensure elderly, vulnerable people get the help they need to live independent lives, and can be safe in the knowledge that they won't get ripped off by dodgy dealers and fraudsters.
So Mr Shapps has given £51 million towards Home Improvement Agencies, who will provide help and advice including:
housing advice, including help to move to more suitable accommodation if needed
handyperson services, including small home repairs, home safety and security adaptations
energy efficiency advice
arranging for adaptations and home repairs to be made, including grab rails, stair-lifts and major work such as ground floor extensions
These agencies also offer hospital discharge services - ensuring older people leaving hospital care are given the support they need to be able to recuperate in the comfort of their own homes.
For those needing adaptations to their homes, Grant Shapps has also confirmed an additional £20 million for Disabled Facilities Grants - bringing the total to £200 million this year alone.
He has also announced £1.5 million funding for FirstStop, which provides independent advice to older people looking to plan their future housing needs - whether in their own homes, or in care homes. This is in addition to work already underway to look at new and innovative ways in which elderly people can fund their future care needs without having to resort to selling their property.
And to plan for the needs of older households in the future, Mr Shapps has announced plans for councils to consider the needs of their ageing residents in their local housing plans, by planning the numbers of new homes built  to ensure they include features that meet the needs of older people, such as wider doors for wheelchairs and walk-in showers.
Grant Shapps said:
"As we get older the last thing we want is for our properties to become our prisons. We want to be able to enjoy the comfort of our own homes in our later years. But with nearly a fifth of our population expected to be over 65 by 2020, radical and urgent change is needed to ensure the nation's housing meets the growing and changing demands that this is bringing, and will bring in the future.
"That's why today I'm offering a new deal for older people, backed with millions of pounds of government cash, to ensure elderly residents get the support they need to live independently and comfortably in their own homes for as long as they can, with particular support for those leaving hospital. Older people will be able to get the adaptations, repairs and improvements to their home that they need, safe in the knowledge that the help they are getting is from trusted tradesmen and advisers - not dodgy dealers and fraudsters out to exploit their situation.
"As Britain's population gets older, our homes must adapt to meet our changing needs. Today's multi-million pound new deal for older people will help achieve this."
Published 3 January 2012