New Crown Representative to provide voice for voluntary sector
A new Crown Representative role for the voluntary sector has been created, as part of the government's commitment to help charities do more.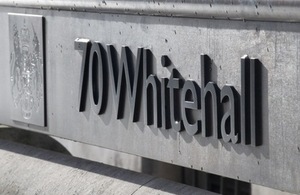 CAB 046 - 12 
A new Crown Representative role for the voluntary sector has been created, as part of the Government's commitment to enable charities and social enterprises to do more. This new role will open up more public sector business opportunities for these types of organisations, and help improve the relationship between government and the sector. Michael O'Toole has been appointed to ensure the Voluntary, Community and Social Enterprise sector (VCSE) voice is heard at the highest levels.
Michael O'Toole has a strong background for this role, and was previously Chief Executive of 3SC, which manages bids and delivery consortia for large public sector contracts on behalf of civil society delivery organisations. His appointment will focus on improving government's business relationship with the VCSE sector, and make it easier for these organisations to tender for public contracts. Michael O'Toole will also help Government to engage more widely on VCSE issues, and find ways to enable VCSEs to bring their innovative solutions to the public sector market.
Nick Hurd, Minister for Civil Society, said:
This new appointment shows how serious we are about enabling the voluntary sector to win more public contracts, and give them the tools they need to achieve this. This is a really important role for the sector and Michael O'Toole, who has shown he can deliver real change through his achievements at 3SC, is a welcome appointment.
Michael O'Toole, the Government's new Crown Representative for the VCSE sector, said:
I am delighted to be taking up this new role as Crown Representative for the VCSE sector. In this crucial post I aim to play my part in opening up public sector business to VCSEs. I passionately believe that the sector offers a huge contribution to public services delivery, which is still largely untapped. Their passion, innovation, and huge voluntary resource can offer government an efficient and effective public services delivery option.
Notes to Editors
1. As part of its commitment to change the way that Government does business, the Minister for the Cabinet Office, Francis Maude has appointed a series of 'Crown Representatives'. The Crown Representatives will work with an initial pool of strategic suppliers, made up of a mix of existing major suppliers and some who are new or emerging to central government. Each Crown Representative will be responsible for managing the relationship with a defined group of suppliers.
2. Michael O'Toole will report to Bill Crothers, Executive Director for Commercial Relationships at the Cabinet Office, and he will join the Cabinet Office on Monday 18 June.
3. After graduating in Business Finance & Law, Michael spent the first half of his career working in the electronics industry in purchasing, marketing and business development; developing supply chains for Japanese and US corporations in Europe. Since 2002 he has principally worked in the VCSE sector.
4. He was the first permanent Chief Executive of 3SC, the social enterprise which manages bids and performance for large public sector contracts on behalf of VCSE sector delivery organisations. With 3SC he developed capacity building and performance management systems and collaborative bidding strategies with the aim of increasing VCSE opportunities to deliver public services. He is a former Chief Executive of the educational charity; National Extension College. He was also Development and Marketing Director of the outsourcing information services charity bss, and between 2002-2008 oversaw a massive expansion of the charity's public services contracts. He has been a primary school governor, sat on the Direct Marketing Association Council and is also currently Chair of a regional charity Home-Start, which offers support, friendship and practical help to parents with young children. He is also Chair of Home-Start Herts, which will provide infrastructure services to nine charities working together to bid for a local authority tender. Since 2009, he has also been a Trustee of PTA-UK, the national charity representing 13,600 PTAs across England, Wales and Northern Ireland, providing information and infrastructure services.
 
Published 15 June 2012