New control tower for Bastion Airfield
The RAF Air Traffic Controllers at Camp Bastion, the main UK base in Helmand province and the UK's fourth busiest airfield, have recently moved into a new state-of-the-art control tower.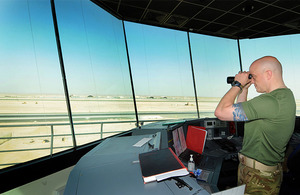 The old Air Traffic Control Tower consisted of a small cabin on stilts, but, funded and designed by the UK, the new facility closely replicates the standard layout of RAF control towers in Britain.
RAF and United States Marine Corps (USMC) Air Traffic Controllers based at Camp Bastion were present in both towers to ensure that the scheduled transition ran as smoothly as possible.
A wide variety of multinational jets, helicopters and drones now operate from Camp Bastion, making the operating environment almost unique. It currently has more traffic than Luton, Edinburgh and Birmingham Airports and is busier than Leeds-Bradford and Coventry put together.
The transfer of control from the old to new tower was planned and overseen by Senior Air Traffic Control Officer Squadron Leader (Sqn Ldr) Tommy O'Flaherty and Executive Officer Sqn Ldr Steve Darling. Sqn Ldr O'Flaherty said:
In the UK, most RAF stations tend to have one or two aircraft types - out here at Bastion we have many different types.

Bastion Air Traffic Control is the most challenging air traffic environment; anyone who succeeds at Bastion will have no trouble back in the UK.
At 0900hrs on the day of the transfer to the new facility, controllers in the new tower began to run parallel operations by listening in and mirroring control of all aircraft. At 1000hrs, after resolving a few minor problems, transfer of control was successfully completed, with Staff Sergeant (SSgt) Riley USMC being the first person to formally control an aircraft from the new facility.
Since then all operations have been run entirely from the new tower with no major setbacks. SSgt Riley said:
It was an honour to make the first radio transmission from the new tower after all the hard work everyone had put into the move.
The new Air Traffic Control Tower is a greatly improved working environment, with the latest in communications systems, as well as providing a spectacular view of the ever-expanding Bastion Airfield. Sqn Ldr O'Flaherty added:
In terms of facilities, Bastion's Air Traffic Control Tower is one of the best we have in the RAF. This is a brand new facility, purpose-built for the job.
When Bastion Airfield opened, in April 2006, it was designed to handle no more than 12 aircraft movements per week, and now, only five years later, it handles on average 14,500 per month, which equates to the UK's fourth busiest airfield.
The runway, originally just a dirt strip in the desert, is now over 11,000 feet (3.35km) long - enough to handle the largest passenger aircraft in the world. In March 2011, there were 16,293 aircraft movements, a number set to increase throughout the summer months.
Published 8 June 2011