Press release
New contract demanding more from jobseekers in place across Britain
635,000 claimants have signed new agreements setting out what they will do to find work in return for their benefits.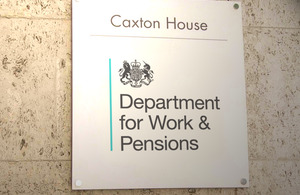 The Claimant Commitment has now been successfully rolled out across the country, the latest figures show. It means all new jobseekers and those completing the Work Programme must agree and sign the commitment in order to receive benefits.
The new agreement sees jobseekers agree the steps they will take each week to give them the best chance of getting into work. This could include registering and looking for work through Universal Jobmatch or a recruitment agency. It builds on help already in place and clearly spells out the consequences of failing to do what jobseekers have promised – or risk losing their benefits.
The Claimant Commitment in numbers:
635,000 jobseekers have signed a Claimant Commitment since its rollout from October 2013 to April 2014
the Claimant Commitment was introduced in all 714 Jobcentres in the country between October and April
26,300 staff have been trained to deliver the Claimant Commitment across the country
Welfare Reform Minister Lord Freud said:
With Universal Credit we are creating a modern and sustainable welfare system that is fit for the 21st century – one that supports people when they need it and helps them become independent.

The Claimant Commitment redefines the relationship between jobseekers and the state.

Claimants receive greater support to get into work from their work coach and we expect them to do all they can to find a job as quickly as possible as part of the deal for receiving their benefit.

Staff have told me it has strengthened their ability to support people into work at the earliest opportunity.
Following an in-depth conversation, work coaches and jobseekers agree regular specific tasks, work preparation and training opportunities that will give them the best chance of finding work quickly. The penalties claimants could face for failing to meet their responsibilities to get into work are clearly spelt out.
Neal Guise, 20, from Dagenham, signed a Claimant Commitment at Dagenham Jobcentre Plus after he was made redundant. He said it helped him focus on his job search and he's now working as a business apprentice at Barking Town Hall.
He said:
When I first met my adviser I was probably like every person coming to the Jobcentre, a bit unenthusiastic. But I don't think people know how much the Jobcentre advisers do for them. I thought the Claimant Commitment was demanding, but fair. It motivated me. Without that commitment you probably don't do so many job searches.
Work coaches help claimants set out a detailed statement of what they will do to find work using a new personal work plan. Claimants also use the plan to record what they have done. They renew their Claimant Commitment on a regular basis.
The new commitment is an important part of the cultural transformation that Universal Credit will bring and will place a strong focus on the responsibilities that claimants must fulfil.
More information
The Claimant Commitment was rolled out across Jobcentre Plus between October 2013 and April 2014.
Read the Claimant Commitment: early results of national roll-out
Contact Press Office
Media enquiries for this press release – 0203 267 5109
Press Office
Caxton House
Tothill Street
London
SW1H 9NA
London Press Office (national media and London area enquiries only – not questions about personal claims) 020 3267 5144
Out-of-hours (journalists only) 076 59 108 883
England and Wales (local media enquiries) 029 20 586 then 097 or 098 or 099
Scotland (local media enquiries) 0131 310 1122
Follow DWP on:
Published 25 April 2014