New Commander-in-Chief of Air Command visits RAF personnel in Afghanistan
Air Chief Marshal Simon Bryant has met with Royal Air Force personnel during his first visit to Afghanistan as the newly-appointed Commander-in-Chief Air (CINCAIR).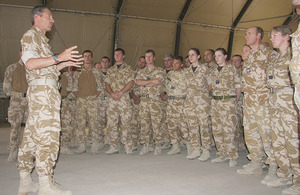 Air Chief Marshal Bryant flew into Afghanistan this week accompanied by Air Vice-Marshal Mike Lloyd, acting Deputy Commander-in-Chief Personnel.
This was a return visit to Afghanistan for ACM Bryant, but his first visit in his new role as CINCAIR, and, while the visit focused on operations, he placed a strong emphasis on personnel issues and was keen to stress how important it was for him to meet RAF personnel in Afghanistan.
ACM Bryant said:
It is important that I meet RAF personnel on operations so I understand fully the contribution that the RAF is making.
I have been extremely impressed by the professionalism and commitment of our people in Afghanistan; they are providing a vital contribution in a range of roles both on the ground and in the air.
RAF personnel are involved in many aspects of operations in Afghanistan including air transport and intelligence, surveillance, target acquisition and reconnaissance. There are also RAF Regiment force protection experts protecting the major bases and the RAF Medical Emergency Response Teams who provide life-saving care in the air.
ACM Bryant said:
My visit provides an opportunity to hear personal experiences associated with individuals' deployments, with a view to improving that experience and contributing more effectively to operations.
These conversations provide me with the evidence I need to enhance the vital contribution that air power is making in Afghanistan and to keep personnel abreast of what is happening back in the UK.
ACM Bryant began his visit in Kabul, visiting RAF personnel at the international airport. He then dropped into Kandahar, spending time with personnel from 904 Expeditionary Air Wing (EAW), where he met with aircrew and ground crew from the Hercules and Tornado detachments.
He also spoke with personnel from the Tactical Imagery-Intelligence Wing (TIW) and received briefings on the force protection provided by 51 Squadron RAF Regiment.
ACM Bryant then took the time to call on the Commander of Kandahar Airfield, Air Commodore Gordon Moulds. He then flew into Camp Bastion to meet with personnel from 903 EAW, the Joint Helicopter Force and Joint Force Support, before moving forward to Lashkar Gah where he finished his visit engaging with the RAF personnel embedded within the Task Force Helmand headquarters.
Sergeant Ross Pinches, from the TIW at Kandahar Airfield, said:
It was great to meet CINCAIR, he was really interested in hearing about my job in TIW and he took time to listen to our views and answer a number of questions that personnel raised about the uncertainties of the SDSR [Strategic Defence and Security Review].
ACM Bryant was appointed as the Commander-in-Chief of Air Command on 18 June 2010.
Published 5 August 2010