Press release
New co-chairman appointed to the Future High Streets Forum
Simon Roberts appointed as new co-chairman.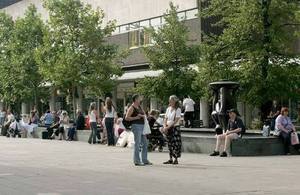 High Streets Minister Brandon Lewis today (29 April 2014) announced the appointment of Simon Roberts, Managing Director, Health and Beauty UK and Republic of Ireland, Alliance Boots, as fellow co-chairman of the Future High Streets Forum.
The Future High Streets Forum brings together leaders across retail, property and business to better understand the competition in town centres across the country and to drive forward new ideas and policies. Simon Roberts' appointment as co-chair underlines the importance to the forum of continuing to have strong leadership and expertise from both the business world and government.
High Streets Minister Brandon Lewis said:
The needs of the modern shopper are changing and our high streets must keep pace in order to remain relevant and prosper. The forum is making sure this happens. By bringing together business, councils, retailers and property experts to work on projects that will help rejuvenate British high streets we can create new jobs and boost local growth in the process. Simon's expertise is going to be a great addition to the team.
Simon Roberts, Managing Director, Health and Beauty UK and Republic of Ireland, Alliance Boots, said:
Boots has long been committed to the vitality of UK high streets and our work with the forum continues this legacy of engagement and support. While progress has been made, we recognise the need for a new level of collaboration among retailers and the broader business community. I am thrilled to be joining the forum as co-chairman and look forward to working further with other like-minded businesses, local authorities and the government to support the creation of healthy, prosperous high streets for many years to come.
The forum met today to further develop a coordinated response to the challenges faced by the high streets across the country.
Members agreed to establish a new group that will deliver a strategy to combine new digital technologies with the traditional bricks and mortar high street. This will be informed by a research review currently being conducted by the University of Southampton to examine the evolving characteristics of high streets.
Further information
A crucial element of the forum's work focuses on strengthening local leadership to boost engagement. One such success story is Rotherham in Yorkshire, visited earlier this month by Brandon Lewis and retail expert Mary Portas, where in just 2 years, 86 new businesses have opened their doors on the high street.

Simon Roberts takes over from Alex Gourlay, from Alliance Boots, who stepped down last year.
Office address and general enquiries
2 Marsham Street
London
SW1P 4DF
Contact form http://forms.communiti...
General enquiries: please use this number if you are a member of the public 030 3444 0000
Published 29 April 2014