Press release
New Civil Service training contract set to benefit small businesses
A new contract for Civil Service learning and development will be the first cross government contract to mandate busness competition in the supply chain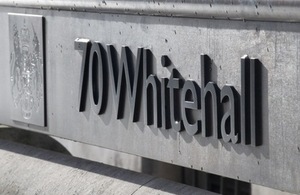 CAB 012-12  
A new contract for Civil Service learning and development will be the first cross government contract to mandate that the majority of business is open to competition between other businesses in the supply chain, Minister for the Cabinet Office, Francis Maude announced today. The new Civil Service training contract will be the first contract let by central government to mandate levels of competition in the supply chain.
Civil Service Learning (CSL), one of the Government's new HR hubs set up to simplify HR and reduce costs, has today awarded a contract to provide training across the Civil Service worth up to £250M to Capita Workplace Services, but has mandated that they must ensure a minimum of 51 per cent of this business is delivered through an open and competitive supply chain. The new style of contract is an innovative approach by Government to influence the number of smaller players that get access to government business and to ensure constant innovation and competition. The majority of the approximately 13,000 players in the learning and development market are small businesses.
Open competitions will be run by Capita and audited by Government. Capita's successful bid will also cut the cost of classroom courses by up to 70%, while ensuring that civil servants will get the right training which will help them deliver first class services to the public.
Announcing the contract, Francis Maude, Minister for the Cabinet Office said:
Never before has the government taken the step of mandating competition in the supply chain. This new contract exposes the myth that there is an inherent contradiction between centralising procurement and supporting small businesses. Not only will this lead to more opportunities for smaller players, it will lead to more innovative training approaches for civil servants and greater savings for taxpayers.

The contract is the latest step in our radical training overhaul to support the transformation of the Civil Service into a more modern and dynamic organisation. Capita submitted a competitive bid and will play a crucial role as the prime contractor. The company is showing real leadership by pioneering this new approach and committing to working with its supply chain to find the best value and innovation the learning and development market has to offer.
The contract will also be available for use by the wider public sector and discounts will be provided once set levels of spend are exceeded. It will be used for a mix of e-learning and classroom training, and will make a significant contribution to the projected £90M per annum savings CSL will deliver. The cost of e-learning procured by CSL has already dropped from an industry average of 38 pence per hour to just 11 pence per hour.
Jerry Arnott, Director of Civil Service Learning said:
Through working with the open market, we also expect to gain more flexible access to a range of solutions that will improve the overall quality of training provision across the Civil Service.
Dawn Marriott-Sims, Executive Director for Capita said:
Public sector organisations that take advantage of the framework can expect quality learning and development services, which provide value for money and support the delivery of excellent public service. We already have strong relationships with a range of small training companies, and we are committed to developing this SME supply chain even further. The Civil Service can look forward to a common curriculum, reduced duplication and a far more efficient process for procuring learning services.
Civil Service Learning was established in April 2011 in response to a review of the delivery of training in the Civil Service which showed:
Duplication in procurement, with departments having over 200 contracts with providers, 52 for leadership alone, and in many cases departments having multiple contracts with the same provider, charging different rates
A confusing array of products with over 5000 classroom courses available, 500 of which were people management courses and 1,600 e-learning courses
Development costs being paid multiple times for similar products, and daily delegate rates varying across contracts with the same supplier
Significant under-utilisation, with courses running with between 20 and 40% of places unfilled.
Notes to editors
Civil Service Learning (CSL) is one of three new HR services being provided across the Civil Service, as part of a programme to simplify HR and reduce the cost to departments.
63 people work for CSL, which is hosted within the Home Office. The team comprises learning consultants together with procurement and contract management expertise working on behalf of all central government departments and agencies.
The new contract is also open to the wider public sector to use ensuring that the whole of the public sector can benefit from it. Discounts will be applied on a rolling 12 month basis ranging from 1.5% when spend reaches over £5M to a maximum of 12.5% on spend over £60M. No guarantees of minimum volume or value have been given.
Published 22 February 2012