News story
New Chief of the General Staff appointed
Lieutenant General Sir Nicholas Carter has been appointed as the next Chief of the General Staff.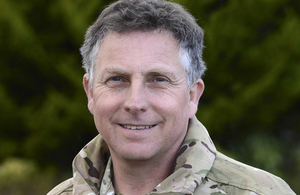 The Defence Secretary Philip Hammond has today confirmed the appointment of Lieutenant General Sir Nicholas Carter as the next Chief of the General Staff, the professional head of the British Army.
Lieutenant General Carter will succeed General Sir Peter Wall and will be promoted to general when he assumes his new post later this year.
Philip Hammond said:
I am pleased to announce the appointment of Lieutenant General Carter as the next Chief of the General Staff from September this year.

I look forward to working with Sir Nicholas as we deliver our programme of reforms to create a leaner, more efficient Ministry of Defence and more agile, adaptable armed forces.

I pay tribute to the leadership Sir Peter Wall has shown during a period of significant turbulence as we have reshaped the regular army, begun to rebuild the Army Reserve, while conducting operations across the globe, including Afghanistan and Libya.

I am grateful for Sir Peter's extended time in post as we implemented Army 2020.
Lieutenant General Sir Nicholas Carter
Lieutenant General Carter is currently the Commander Land Forces, responsible for the generation of trained soldiers for all operations and contingent commitments, as well as providing standing joint command for all armed forces personnel deployed in support of national resilience within the UK.
Since 2002 he has completed 3 tours of Afghanistan and 1 of Iraq. His first was as Director of Plans in the US-led Combined Joint Task Force 180, while during his second tour in Afghanistan, from 2009 to 2010, he commanded Regional Command (South) which was based in Kandahar.
In his third tour of Afghanistan he was the Deputy Commander of the International Security Assistance Force and the UK's national contingent commander, based in Kabul. Lieutenant General Carter also commanded 20th Armoured Brigade, based in Germany, from 2004 to 2005, which included a tour in Iraq.
In addition to his operational service, Lieutenant General Carter led a study on behalf of the Army Board into the design and structure of the Army, which followed the government's 2010 strategic defence and security review.
Lieutenant General Carter was appointed a Knight Commander of the Order of Bath (KCB) in 2013. He was awarded a Distinguished Service Order (DSO) in 2011 and Commander of the Most Excellent Order of the British Empire (CBE) in 2003.
Published 20 February 2014
Last updated 20 February 2014
+ show all updates
Removed photograph of Major General Nick Carter in Afghanistan in 2010
First published.