News story
New Chief Executive for Her Majesty's Courts and Tribunals Service
Following an open competition, the Prime Minister has approved the appointment of Susan Acland-Hood to the post of Chief Executive, HMCTS.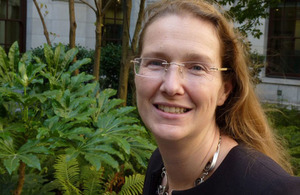 Susan will take up the position on 21 November and Kevin Sadler will remain as interim chief executive until then.
Susan Acland-Hood is currently Director of Enterprise and Growth at HM Treasury, and is responsible for policies on productivity, growth, business, infrastructure, exports, competition and markets, and for energy and transport spending (including Board membership for several major infrastructure projects).
Previously, Susan spent 2 years as Director of Education Funding at the Department for Education, overseeing the comprehensive reform of the capital programme. Susan has also worked extensively on home affairs and justice policy, both at No10 and in the Home Office. She has also had senior roles in the London Borough of Tower Hamlets, and in the Social Exclusion Unit.
Richard Heaton, Permanent Secretary, Ministry of Justice and Robert Ayling, independent Chairman of the HMCTS Board, welcomed the appointment, saying:
We are delighted that Susan will be joining us as Chief Executive of HMCTS. Susan is an extremely talented public servant, with valuable experience of both central and local government and of major reform programmes. We are confident that she will lead HMCTS brilliantly, working with a strong HMCTS team and with colleagues across the Ministry of Justice to bring about the successful delivery of our programme of reform. Susan shares our commitment to making radical improvements in how we make justice available to citizens, as well as our appreciation of everyone who works in HMCTS and the importance of what they do.

We would like to pay a particular tribute to Kevin Sadler for acting as Chief Executive over the past four months. He has combined deep knowledge of the justice system, a passion for its improvement, and an ability to get things done. Under his leadership, the organisation has started to make reform a reality. He has also made an excellent contribution as a valued colleague on the Ministry of Justice's executive committee.
Susan Acland-Hood said:
I am delighted to have been given the privilege of leading Her Majesty's Courts and Tribunals Service. There are few things more important than the rule of law, and justice well administered; and few things more rewarding than making change for the better. We have a once-in-a-generation opportunity to deliver a transformed justice system that is faster, better, and more accessible to all. I have already been impressed by the dedication and commitment of HMCTS's excellent staff, and I look forward very much to working alongside them to add technology to our powerful and respected traditions, and give us the best justice system in the world.
Published 3 October 2016