Press release
New chairman is announced for pharmacy programme board
The Department of Health has today announced the appointment of Ken Jarrold to chair the programme board for the Government's work on rebalancing…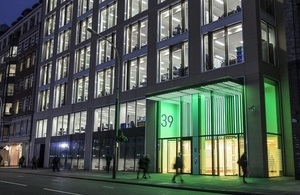 The Department of Health has today announced the appointment of Ken Jarrold to chair the programme board for the Government's work on rebalancing of medicines legislation and pharmacy regulation.
The board will examine the scope of medicines legislation and pharmacy regulation and how the two work together. The board will focus on making sure the two systems are updated so people who use pharmacies continue to be safe - and that standards and the quality of service is high. The board will also make sure the systems do not act as a barrier to development and innovation in pharmacy practice.
Lord Howe, Health Minister said:
"I am delighted to announce the appointment of Ken Jarrold to this challenging and important role.
"This work must carefully balance a range of interests and considerations including those of the patients, regulators and pharmacy.
"Appointing an independent chairperson is a vital part of this process.
"Mr Jarrold has proven he is skilled and highly capable of successfully delivering this programme of work. He will be assisted by a similarly able programme board which will be announced in due course."
Ken Jarrold has held many national roles and is well respected for his leadership skills. He chaired the Pharmacy Regulation and Leadership Oversight Group and was instrumental in the successful establishment of the General Pharmaceutical Council.
Summary of Curriculum Vitae
Ken Jarrold **CBE**
Ken Jarrold is Chair of the North Staffordshire Combined Healthcare NHS Trust, a Partner with The Dearden Partnership LLP, and Patron of the NHS Retirement Fellowship.  Ken was Chair of the County Durham Economic Partnership from 2006 to 2012. Ken was Chair of the Pharmacy Regulation and Leadership Oversight Group [PRLOG] from 2007 to 2009. PRLOG's job was to oversee the establishment of the first General Pharmaceutical Council. Ken was a Non Executive Director of the Serious Organised Crime Agency from 2005 to 2009 and a member of the Board of the Child Exploitation On Line Protection Centre [CEOP] and Chair of the CEOP Relationship Management Committee from 2009 to 2012. Ken was an NHS Manager for 36 years.
Ken joined the NHS in 1969 as a National Administrative Trainee having been awarded a 1st Class Honours Degree in History at Cambridge University and having been President of the Cambridge Union Society. During his time as an NHS manager Ken was Director of Human Resources and Deputy to the Chief Executive of the NHS in England for three years and a Chief Executive of District, Regional and Strategic Health Authorities for 19 years. Ken held many national roles including President of the Institute of Healthcare Management, Chairman of the Working Group that produced the Code of Conduct for NHS Managers, of the Group that produced the learning materials for Managing Health and Social Services and of the National Reference Group on Health Inequalities .Ken is an Honorary Professor in the School of Medicine and Health at Durham University and has been an Honorary Professor of York and Salford Universities. Ken is an Honorary Doctor of the Open University.
Notes to editors
Rebalancing Medicines Legislation and Pharmacy Regulation
The statement http://www.dh.gov.uk/health/2012/10/cpo-statement/   issued on 29th October by the four Chief Pharmaceutical Officers (CPhOs) signalled initial exploratory discussions on rebalancing medicines legislation and pharmacy regulation.
The work is linked to the review of penalties and sanctions being taken forward by the Medicines and Healthcare products Regulatory Authority (MHRA) and we will be working closely with MHRA to ensure that issues are considered in the round.
Scoping work is at an early stage, but it is clear that this is a complex body of work requiring robust governance arrangements, incorporating Department of Health, devolved administrations, MHRA and pharmacy regulators' interests, as well as a range of others.  Having appointed the chair, the programme board will now be established. Further information will be provided once the programme board members have been appointed.
Published 28 January 2013