Press release
New Chairman for NHS Blood and Transplant
John Pattullo has been named as the new chairman of NHS Blood and Transplant (NHSBT) Health Secretary Jeremy Hunt announced today.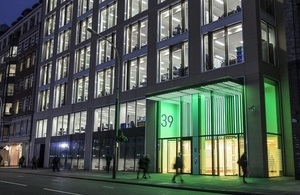 NHSBT is responsible for providing a reliable, efficient supply of blood to hospitals in England and North Wales as well as the wider NHS. It is also the organ donation organisation for the UK and responsible for matching and allocating donated organs.
Mr Pattullo, who recently retired as Chief Executive Officer of CEVA, an Amsterdam-based global logistics company, will take up his new role immediately.
Health Secretary Jeremy Hunt said:
I am very pleased to confirm John Pattullo as the new chairman. He brings a wealth of skills and experience from his long career in industry, and is well qualified to provide continued strong leadership to NHSBT in its vital work to maintain a safe and dependable supply of blood, tissue and organs to the NHS.
Mr Patullo said:
I am delighted to take on this role within such a high-performing organisation.

NHSBT's work is recognised and respected world-wide and it will be a privilege to lead the organisation in the work it does to save and improve lives.

I look forward to working with Lynda Hamlyn and the rest of the board to the take NHS Blood and Transplant from strength to strength.
Background information
For media enquiries please ring the Department of Health on 0207 210 5197.

This appointment is made in accordance with the Code of Practice for Ministerial Appointments to Public Bodies, issued by the Commissioner for Public Appointments. All appointments are made on merit and political activity played no part in the selection process. However, in accordance with the original Nolan recommendations, there is a requirement for appointees' political activity (if any declared) to be made public. Mr. Pattullo has declared no current political activity.

John Pattullo is recently retired as Chief Executive Officer of CEVA, an Amsterdam-based global logistics company. Prior to that, he was Chief Executive in Europe, the Middle East and Africa for Exel (subsequently DHL/Exel) contract logistics business; and previously had more than 30 years of experience with Procter & Gamble in a broad range of roles in the UK, Europe and Asia. He holds no other Ministerial appointments.

The appointment is for three years from June 1, 2013. He will receive £63,000 per annum for a time commitment of three days per week.

For further information on NHS Blood and Transplant click here.

The NHS Organ Donor Register records the details of people who have registered their wishes to donate organs and/or tissue after their death for transplantation. This information is checked after someone has died, by authorised medical staff, to establish whether a person wanted to donate.

The NHS needs 7,000 units of blood daily to supply hospitals across England and North Wales. Currently, 4% of the eligible population are active blood donors, helping to ensure that hospital demand is met.

To join the NHS Organ Donor Register or to register as a blood donor call the donor line on 0300 123 23 23. You can also join online by visiting the Organ Donor Register website or the Give Blood website.
Published 31 May 2013