News story
New Chair of the Consumer Council for Water
Alan Lovell appointed the new Chair of the Consumer Council for Water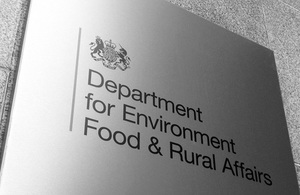 Alan Lovell has been appointed as the new Chair of the Consumer Council for Water by the Secretary of State for Environment, Elizabeth Truss, and the Welsh Government's Minister for Natural Resources, Carl Sargeant AM. The appointment will take effect from 1st April 2015, for a period of four years.
Alan Lovell has been Chief Executive of six companies including Costain, Dunlop Slazenger, Infinis and Tamar. He is currently Senior Independent Director at Sweett Group plc and a non-executive director of two clean energy businesses and of IAC Acoustics. He is also on the Council of Lloyd's, the Chairman of the Association of Lloyd's Members and an advisor on restructuring at PwC.
Mr Lovell is also heavily involved within the not-for-profit sector. He is the founding Chairman of the Hampshire Cultural Trust and the Blue Lamp Trust, Vice Chairman of the Mary Rose, a Governor of the University of Winchester and both a Trustee and Council member of Winchester Cathedral. He was High Sheriff of Hampshire in 2010/11.
The Consumer Council for Water is the voice of water and sewerage customers in England and Wales. It represents the views of customers to Government, the regulators and water companies. It also handles complaints about water companies where customers are not satisfied with a company's performance.
The appointments have been made in accordance with the Code of Practice issued by the Commissioner for Public Appointments. All appointments are made on merit and political activity plays no part in the selection process. The Code requires for appointees political activity (if significant) to be declared. Alan Lovell has not declared any political activity.
Published 20 March 2015