News story
New chair of Passenger Focus announced
Jeff Halliwell will start as Chair at Passenger Focus from 9 February 2015.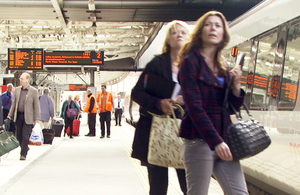 The Secretary of State for Transport, Patrick McLoughlin, today (16 December 2014) announced the appointment of the new Chair of Passenger Focus, the statutory passenger watchdog.
Jeff Halliwell will start as Chair from 9 February 2015 following a short handover from the existing Chair, Colin Foxall, whose term will come to an end on 6 February 2015 after nearly 10 years of outstanding service in the role.
Patrick McLoughlin said:
Transport is a vital part of our long-term economic plan, and Passenger Focus has a hugely important role in making sure passengers have a strong voice in the development of our infrastructure.

I am pleased that Jeff Halliwell will be taking on the role of Chair to lead Passenger Focus forward during a period that will hopefully see an increasing focus on the needs of transport users.

I should also like to take the opportunity to pay tribute to the current Chair, Colin Foxall. His dedication and commitment to representing the needs of passengers has shone through as has his honesty, integrity and constructive attitude in dealing with the government.
Jeff Halliwell said:
Passenger Focus has developed an excellent reputation in representing the interest of transport users. It has achieved credibility with stakeholders through the use of thorough, evidence-based research, and I'm looking forward very much to supporting its important work.
Passenger Focus is the independent public body set up by the government to represent the interests of rail passengers in England, Scotland and Wales, bus and tram passengers in England (outside of London) and passengers on scheduled domestic coach services in England.
Its mission is to get the best deal for passengers through evidence-based research, ensuring the passenger's voice informs decisions and securing improvements to the journey experience. It also provides an effective appeals service for rail passengers and promotes good practice in complaints handling.
Subject to parliamentary approval, Passenger Focus will be taking on a new role next year representing the interests of users of the strategic road network.
All members of the Passenger Focus Board are appointed in accordance with the Code of Practice issued by the Office of the Commissioner for Public Appointments.
The new Chair has been appointed for a 4 year term. Remuneration will be £35,000 for a time commitment of 104 days a year.
All appointments are made on merit and political activity plays no part in the selection process. However, in accordance with the original Nolan recommendations, there is a requirement for appointees' political activity (if any declared) to be made public.
Jeff Halliwell holds a number of non-executive roles across different sectors.
Further information about the new Chair, including details about other public appointments held and any declared political activity, is available on the Passenger Focus website.
Rail media enquiries
Press enquiries 020 7944 3021
Out of hours 020 7944 4292
Switchboard 0300 330 3000
Published 16 December 2014