Press release
New chair of independent police complaints commission announced
Dame Anne Owers has been appointed as the new chair of the independent police complaints commission (IPCC), the Home Secretary announced.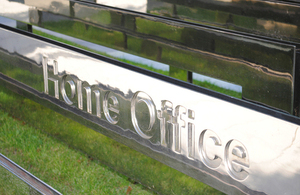 Dame Anne is the second permanent chair of the IPCC, taking over from the current interim chair Len Jackson. She was appointed by royal warrant for five years.
 
Home secretary Theresa May said:
'I am delighted to announce Dame Anne Owers as the new chair of the independent police complaints commission (IPCC).
'Dame Anne has considerable experience of criminal justice and a formidable public reputation. She will challenge all parties to get to the truth and ensure that the organisation provides a fair, transparent and trusted service to the public and police.'
During the next few years the IPCC will continue to have a significant role to play in supporting police reform and increasing public confidence in policing, including taking responsibility for investigating complaints against police and crime commissioners, and making the police complaints system less bureaucratic and more transparent.
Dame Anne said:
'I am delighted to be joining the IPCC at this exciting time of change and challenge for the commission and the police service. The IPCC's independent investigation and oversight plays a critical role in ensuring public confidence in policing, and I look forward to working with the commissioners and staff as they continue to carry it out.'
The appointment was made by the Queen following recommendations from the home secretary and prime minister.
Notes to editors
1. Dame Anne Owers (DBE) was HM chief inspector of prisons from 2001 to 2010, with a remit that included inspections of prisons, immigration removal centres and police custody. Between 2010 and 2011 she chaired an independent review of the prison system in Northern Ireland. She is currently a non-executive director of the criminal cases review commission and holds a number of voluntary roles, mainly in the area of penal policy and activity.
2. The recruitment process was compliant with guidance from the office of the commissioner for public appointments (OCPA).
3. The post of IPCC chair holds a salary of £60,000 per annum, plus applicable allowances.
4. The IPCC was established in accordance with the police reform act 2002, which specifies its purpose and remit and sets out criteria that must be met by the chairman and the commissioners. It has a critical role to play as a statutory guardian of the police complaints system in terms of ensuring the integrity of complaints handling and investigation, in ensuring that lessons are learned across the police service from what can be tragic circumstances, and in increasing public confidence in the complaints system.
Published 16 February 2012