New cash backing more communities to put neighbourhood plans together
Planning Minister Nick Boles has announced a new multi-million pound cash boost to help more communities.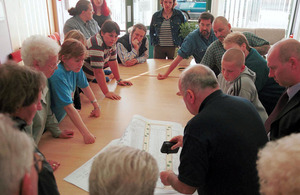 The cash will help more communities take centre stage in planning the shape, look and feel of their local area.
Neighbourhood planning gives people a major say in shaping development in their area. It gives communities the power to help decide where development should go including the type and design of development that they want to allow planning permission for.
Over 2 years local planning authorities will benefit from up to £17 million to help communities turn the vision for the future of their local area into a reality.
From January local planning authorities will be able to claim grants of up to £50,000 to help up to 10 communities get going with their neighbourhood plans. From April this will be extended even further making £100,000 available to kick start up to 20 plans in the area. Authorities will then receive a further £25,000 for every neighbourhood plan that gets through a successful examination.
More than 300 communities are already using the new powers introduced in the Localism Act to work up plans for neighbourhood areas that decide, for example, the location of new homes or what green spaces communities to protect.
Planning Minister Nick Boles said:
"Communities across the country are showing real enthusiasm for neighbourhood planning and taking up the powers we gave them to get directly involved in making - this is in stark contrast to the top down only decisions we saw before.
"The new financial support we are making available today to councils will enable them to open up neighbourhood planning so that even more communities can turn paper plans into the realities of prospering neighborhoods that are growing and developing in the ways they want to see."
Further information
From 2 January local planning authorities are able to claim up to a maximum of £50,000 (up from £20,000) for area designations this financial year up to a maximum of 10. There is an overall limit of £1.5 million on designation payments.

Changes from 1 April 2013 - local planning authorities will be able to claim for up to 20 designations (£100,000) in the financial year 2013 to 2014. The overall limit for designation payments in 2013 to 2014 has been set at £5 million.

In total, local planning authorities can claim up to £30,000 for each neighbourhood plan.

The first payment of £5,000 will be made following designation of a neighbourhood area recognising the officer time supporting and advising the community in taking forward a neighbourhood plan. The second payment of £5,000 will be made when the local planning authority publicises the neighbourhood plan prior to examination. The third payment of £20,000 will be made on successful completion of the neighbourhood planning examination.

This money recognises the duties that local authorities have in relation to neighbourhood planning. These are to: provide advice and assistance; to hold an examination; and to make arrangements for a referendum.

For more information about neighbourhood planning visit the My Community Rights website.
Published 18 December 2012