News story
New case study shows how MHRA helps Fujifilm future-proof manufacturing facility
A new case study is out showing how FUJIFILM Diosynth Biotechnologies (Fujifilm) engaged MHRA early to future-proof mammalian cell culture manufacturing facility.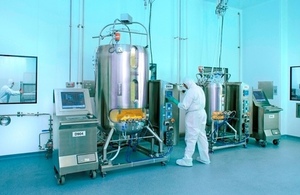 A new case study on how we helped FUJIFILM Diosynth Biotechnologies (Fujifilm) future-proof a mammalian cell culture manufacturing facility in Billingham, UK, is out now.
See the case study for information on how MHRA helped.
The process for the manufacture of this cell culture is the basis for developing and manufacturing monoclonal antibodies as well as other biotechnology products that tackle illnesses such as cancer and heart conditions.
Fujifilm involved MHRA early on to meet regulatory expectations to reduce risk of any late or costly changes. They wanted to include as much feedback from MHRA into the design of the facility as possible.
MHRA's Inspectorate Group Manager, Mark Birse said:
Innovation of the kind Fujifilm has delivered is crucial in ensuring the medicines of tomorrow are developed quickly and cost-efficiently. Our open and pragmatic approach to regulation is designed to support organisations achieve high standards: in site development; in drug manufacture; in public health and patient safety.
You can also see our other 5 case studies to see on how we may be able to help you navigate the regulatory process for your innovative plans and to minimise pitfalls later on.
Published 29 June 2015