New camouflage arrives in Afghanistan
British military personnel in Afghanistan have started wearing uniforms bearing the first new camouflage design in over 40 years.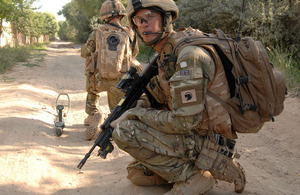 Soldiers began wearing the new Multi-Terrain Pattern (MTP) camouflage in Afghanistan in April 2010. It will be issued to all military personnel by 2012.
The camouflage is intended to help British troops blend into Afghanistan's varied terrain.
It was trialled in laboratory tests and field evaluations to assess overall performance, with pilot trials held before the final testing. This included aerial and scientific photography to provide the right colours and brightness for the new camouflage pattern.
Colours were fed into a computer and computer modelling was used to represent the Green Zone, deserts and mixed environments in Afghanistan. A number of camouflage samples were then generated based on the colours found in Afghanistan and via the computer modelling trials.
The new MTP camouflage will work across different terrains in Helmand province, such as compounds, grassland, crops and woodland - all the areas our troops encounter on patrol.
Members of the Royal Dragoon Guards are among the first to be issued with the new pattern.
Sergeant Luke Cunningham said:
I was in Afghanistan in 2008 and so I have worn both Combat 95 and Multi-Terrain Pattern camouflage on operations.
"The new camo is definitely better for the conditions we face in the Green Zone of Helmand. It's more comfortable and it is superior in terms of the operations we're undertaking."
It is the first time since 1968 that the British Armed Forces have changed the camouflage pattern.
Colonel Stephen James, Project Team Leader for the Defence Equipment and Support Clothing Team, who was responsible for delivering the new pattern, said:
We have presented the new designs to the US Department of Defense and, following our recommendations, the US Army are about to adopt the same technology for their uniform in Afghanistan.
Samples of the MTP camouflage were tested in the UK, Cyprus, Kenya and Afghanistan by the Infantry Trials Unit.
The new uniform is part of the MOD's ongoing programme of work to provide the best possible equipment and support to the front line.
Published 21 May 2010