News story
New Buses Bill to deliver a better deal for the public
Reforms are set to make bus travel more passenger-friendly and give councils more freedom to improve services.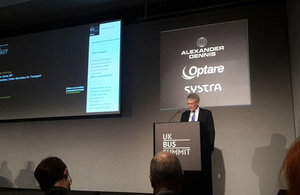 councils will be given more freedom to run their own bus services
Oyster-style ticketing could be rolled out across the country
new bus travel apps possible as companies are made to share more details about services
Bus travel is to be made more passenger-friendly as councils will be given more freedom to improve services, under measures set out today (11 February 2016).
Roads Minister Andrew Jones said reforms will help deliver better journeys across the country, as he delivered a keynote speech at the UK Bus Summit.
Under the changes in the Buses Bill, councils will be given the choice to franchise services and enter into new partnerships with providers.
Roads Minister Andrew Jones said:
Good bus services can help communities thrive and grow and we want to make journeys better so everyone has the choice to leave their car at home.

Passengers want to see Oyster-style ticketing, better information on fares before they travel and live updates about when their bus is going to arrive at their stop.
All companies will have to share information about routes, fares and timetables — paving the way for programmers to develop new apps passengers can use to plan their journeys.
Councils will not have to use the new powers and they may decide they are happy with the arrangements already in place. The reforms are designed to give them new tools to drive up standards in the interests of residents.
Local authorities will be given new powers to enter into stronger partnerships with bus companies, and agree minimum standards for services, improving reliability and punctuality.
They could make sure buses run more regularly, to avoid several being timetabled to arrive at once.
The new partnerships will also be given the power to set standards for local buses and introduce standard ticketing rules over wider areas, paving the way for Oyster-style schemes.
The government will also honour its devolution deal commitment to provide local authorities with bus franchising powers — like those used in London.
A Buses Bill to implement these changes will go before Parliament later this year.
Roads media enquiries
Media enquiries 020 7944 3021
Out of hours media enquiries 020 7944 4292
Switchboard 0300 330 3000
Published 11 February 2016