World news story
New British High Commissioner, Nic Hailey, takes office
British High Commissioner, Nic Hailey, meets Kenyan Ministry of Foreign Affairs officials while President Kenyatta looks on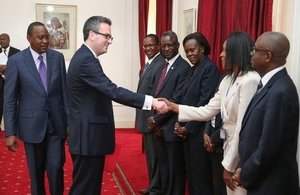 The new British High Commissioner to Kenya, Nic Hailey, officially took office on 8 December 2015 when he presented his credentials to President Uhuru Kenyatta at State House in Nairobi.
After passing on the compliments of both the Queen and Prime Minister Cameron to the President and the Kenyan people, the High Commissioner noted that the United Kingdom's relationship with Kenya was one of deep respect and mutual interest.
In his statement to the President, the High Commissioner said:
"We stand today as two vibrant and modern countries, crucial to the success of our respective regions. We are each safer and more prosperous when the other is so."
The High Commissioner underlined the heightened value of Britain and Kenya's strong and enduring relationship. In particular, he emphasised Britain's commitment to grow further the commercial and development partnerships between the two countries to tackle poverty and to improve education and health in Kenya.
The High Commissioner also pledged increased British support to Kenyan efforts to tackle regional security and environmental issues affecting the interests of both countries. He said:
"I hope also as High Commissioner to work with Your Excellency and Your government to support the integration and development of this crucial region; to build together greater security in Somalia, South Sudan and the Great Lakes; and to tackle the global challenges of the 21st century, from climate change to the spread of violent extremism. We face these challenges as close partners, and as committed and engaged members of the Commonwealth and the international community of nations."
Published 9 December 2015