New boost to help our best brainpower create cutting-edge cyber defences
The UK will further cement its place as a world leader in fighting the growing cyber threat thanks to a new programme aiming to connect industry and academics to develop the next generation of cyber security technology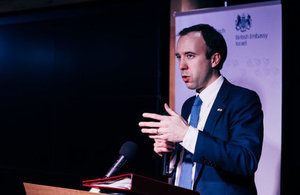 The Academic StartUp initiative will arm academics with the knowhow and support to turn cutting-edge research ideas into commercial products and fast-track British ideas to market.
Speaking in Israel to promote UK-Israel relations and visit the country's National Cyber Directorate, Minister of State for Digital and Culture Matt Hancock, said:
Creating a thriving and innovative cyber security industry is all part of work to make the UK the safest place to live and do business online.
This Academic StartUp programme will help turn our world-class research into world-class products and stimulate the development of our cyber security industry.
The scheme, funded and delivered by Department for Culture, Media and Sport (DCMS) in partnership with the UK's innovation agency Innovate UK, will make sure as many good ideas as possible make it off the drawing board and into reality.
This will help the country's cyber security sector which contributed £1.8 billion in exports to the economy last year and was worth almost £22 billion. The initiative is part of the Government's £1.9 billion national cyber security strategy, which aims to make the UK the safest place to live and do business online and includes opening a new National Cyber Security Centre.
Innovate UK, working the SETsquared Partnership, will receive £500k funding from DCMS to extend its existing ICURe (Innovation to Commercialisation of University Research) programme to include a cyber security strand.
The scheme has previously helped Zeetta Networks, a spin-out company from the University of Bristol, secure venture capital funding to develop ultra-HD video distribution, city-wide Wi-Fi and Internet of Things (IoT) devices.
BluPoint, a spin-out company from the University of Southampton which provides free access to digital content and services for communities living without the internet, used to scheme to fine-tune its products and open up new markets in South Africa and the USA.
The scheme sees academics form product teams to market test new ideas with guidance from commercial experts. These teams connect directly with buyers and present their findings to a panel of industry experts who provide feedback and advice. The pilot may be extended so ideas become prototypes to be presented to investors at a demo day.
Paul Mason, Director for Emerging and Enabling Technologies at Innovate UK, said:
The UK now has the opportunity to become a world leader in cyber security, creating jobs and driving productivity and growth. This latest programme will help fund the ideas with the greatest market potential from our world-class research base and support their development into new cyber security products and processes.
This scheme forms part of the Government's wider national cyber security strategy to help protect the UK from cyber threats. Also published today is our review of regulation and incentives around cyber security, which supports our aim to create the right regulatory framework for organisations to protect themselves without placing undue burdens on them.
It concludes no new specific legislation is required, but sets out some additional new measures to encourage businesses to improve their cyber security, including recognising the importance of the forthcoming General Data Protection Regulation in incentivising organisations to take action.
Evidence underpinning the review is also being published today, along with research which outlines industry perceptions of the Government's Cyber Essentials scheme, which is a key tool to help organisations protect themselves from cyber attacks.
During the Minister's visit to Israel, he also spoke at the reception to mark the 5th anniversary of the UK Israel Tech Hub.
ENDS
Notes to editors:
For more information contact the DCMS press office: 0207 211 2210.
Further detail on the Academic Start Up Programme can be found here

Initially, this will be run as a pilot. The programme is now open to applications.

The SETsquared partnership will run the first phase of the cyber security ICURe programme from January to 31 March 2017 working with up to 12 academic teams. SETsquared is the enterprise partnership of Bath, Bristol, Exeter, Southampton and Surrey universities.

The programme will support the Develop strand of the Government's £1.9 billion National Cyber Security Strategy

The Review into regulation and incentives around cyber security, and research underpinning it, can be found here

Also published today is the Cyber Essentials Scheme research which outlines industry perceptions of the Government's scheme to protect businesses from cyber attacks.
Published 21 December 2016