Press release
New boost for an Essex river
A river is set to be given a new lease of life thanks to Environment Agency and Essex Wildlife Trust restoration projects.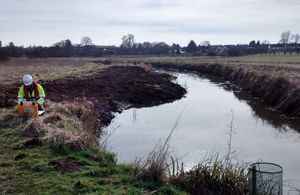 The schemes on the River Blackwater at Bocking have been designed to reduce erosion and flood risk, improve fish habitat and the overall ecology of the river. It also provides recreation opportunities for the local community and angling club.
The first project, led by the Environment Agency, began in April 2014, and work was carried out over a 2 week period in March 2015.
The latest scheme, taking place further downstream by the Bocking nature reserve and designed by the Essex Wildlife Trust (with Defra funding), started last week and is set to be completed within 3 weeks.
The Environment Agency's Dr Trevor Bond, a geomorphologist who designed the first scheme, said: "The river restoration at Bocking has increased the availability of habitats for all river life. It has also helped reduce local flood risk, enhanced water quality and improved access to the river channel. Overall the scheme has provided multiple benefits for people and wildlife."
The river has been heavily modified in the past to improve land drainage and reduce flood risk, however this created a number of problems, which affected the fish habitat.
Among the changes introduced by the projects were;
narrowing the river channel, making some sections fast flowing
installing woody debris to provide habitat for fish
Planting of 70 native trees along the bank edge to provide shade, habitat diversity and a future source of woody debris
Mike Neale, Environment Agency's catchment co-ordinator, said: "As well as improving the habitat for plants and animals, the project has also improved amenity and recreation opportunities to the local community and angling club. We have created a more sustainable channel profile that will need less maintenance in future without increasing flood risk."
Kieren Alexander, biodiversity project officer at Essex Wildlife Trust, said: "The wildlife in the river, including fish and otters, will benefit from a more diverse, richer riverbank and a cleaner healthier stretch of water. This will mean more dragonflies and wildflowers in the summer and better habitat in the winter for fish both locally and throughout the river."
For advice on river management call our National Customer Contact Centre on 03708 506506.
Published 4 September 2015