New Boomerang device helps troops return Taliban fire
A new shot detection system called Boomerang III has been introduced in patrol bases and checkpoints on the front line of Helmand province to alert troops immediately to the source of incoming fire.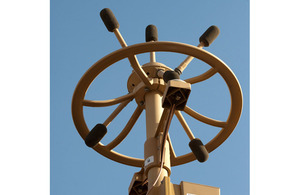 The acoustic shot detection system detects shots fired at bases, and using a high tech display indicates the location of the enemy firing point, allowing troops to rapidly return accurate fire or move to safety.
Lance Bombardier Dyron Yard, from 5th Regiment Royal Artillery, has been using the Boomerang device at his patrol base in Helmand province. He said:
It triangulates the point where the enemy is firing from. It gives you a range and bearing so that you can put accurate fire on that target and neutralise it.
Captain George Shipman, from 29 Commando Regiment Royal Artillery, has also been using Boomerang in Afghanistan. He said:
We've had it here for about a month and already we've used it on a number of occasions where checkpoints have been engaged, and it's helped us to identify exactly where that firing point was.
Usually it would take us maybe ten seconds to identify a firing point using optics, but the Boomerang speeds that up considerably.
After examining emerging technologies to counter the small arms threat, the MOD's Defence Science and Technology Laboratory conducted extensive trials with the Infantry Trials and Development Unit and in theatre, and identified Boomerang III as the preferred solution.
Scientists then made recommendations to industry on how to improve the system and develop it into a capability to save lives on the front line.
Minister for Defence Equipment, Support and Technology, Peter Luff, said:
Boomerang III is an innovative piece of kit which is already proving invaluable to those on the front line. We are committed to researching, developing and delivering the very latest in technology that will give our forces the winning edge.
Bernard Gray, Chief of Defence Materiel, said:
From concept through to delivery, the procurement of Boomerang has been a team effort across the Department and industry and I am pleased that this important capability is now in theatre helping to protect our troops.
Hundreds of the Boomerang systems have been bought under a £20m contract with Essex-based company Maxord Ballistics Limited (MBL), which is the UK distributor for Raytheon BBN Technologies who make the system.
Mike Stephens, Technical Director for Maxord Ballistics Limited, who are based in Nazeing, said:
We are very pleased to be part of a strong team effort that has enabled Boomerang to be delivered to British troops on the front line as quickly as possible.
MBL and Raytheon BBN Technologies are committed to providing the best support for Boomerang to ensure that our forces have this life-saving capability available night and day and in all the conditions in which they find themselves confronting the enemy.
Published 4 August 2011