News story
New board members appointed to Charity Commission
Seven new appointments have been made to the Board of the Charity Commission for England and Wales.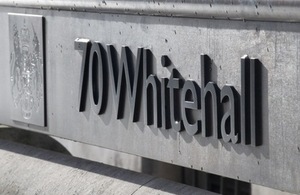 Minister for the Cabinet Office, Francis Maude, has announced 7 new appointments to the Board of the Charity Commission for England and Wales.
About the board members
Peter Clarke
Mr Clarke is a retired senior police officer. He was Deputy Assistant Commissioner in the Metropolitan Police Service where he was Head of the Anti-Terrorist Branch and National Co-ordinator of Terrorist Investigations. Previous roles included Head of the Royal and Diplomatic Protection Department and Deputy Director (then Acting Director) of Personnel for the Metropolitan Police. He is a trustee of Crimestoppers, a patron of the International Centre for the Study of Radicalisation at King's College, London, and a non-executive Director for the Serious Organised Crime Agency.
Claire Dove
Ms Dove is a leading social entrepreneur who has been involved in the development of the social enterprise sector for over 25 years. She was recently awarded the Queen's Lifetime Achievement Medal for Promoting Enterprise. She is Chief Executive of the Blackburne House Group and Chair of Social Enterprise UK. Claire is a Deputy Lieutenant for Merseyside, a Fellow and governor of John Moores University, Vice Chair of Liverpool Community College and a business ambassador for the Northwest.
Orlando Fraser (legal board member)
Mr Fraser has an established reputation at the Chancery Bar, with 18 years experience advising on and presenting complex financial cases, including trusts and commercial fraud. A founding Fellow of the Centre for Social Justice, he chaired the Voluntary Sector Working Group on Iain Duncan Smith's Social Justice Commission Report: Breakthrough Britain. He sits on the Advisory Council of the National Council for Voluntary Organisations (NCVO) and has had a range of involvement with charities.
Tony Leifer (legal board member)
Mr Leifer has had a distinguished career at both DJ Freeman and Olswang LLP Solicitors, at each of which he was partner and formerly Head of the Corporate Department. He is a Member of the Board of Deputies of British Jews and is Chair of their Constitution Committee and a member of the Board's Executive Committee. Mr Leifer is Chairman of the Jewish Council for Racial Equality and Trustee of YaD and the Corrine Burton Memorial Trust.
Nazo Moosa
Ms Moosa has 20 years experience of working in industry, specifically in the technology, media and internet sectors. She was a Director of The Carlyle Group, has served as a Board and remuneration committee member of Transics (Euronext listed transport technology company), Chairperson of BMM (digital marketing services company) and later as a board and audit committee member of LBi (Euronext listed digital agency now part of Publicis).
Gwythian Prins
Mr Prins is Research Professor at the London School of Economics and Political Science. He is also visiting professor at the University of Buckingham. For over 20 years he was a Fellow in History at Emmanuel College, Cambridge and latterly University Lecturer in Politics. Much of his work has been in Africa or on strategic matters. During the latter 1990s he served as Senior Fellow in the Office of the Special Advisor on Central and Eastern European Affairs, part of the Office of the Secretary-General of NATO, Brussels. He is currently a member of the Chief of the Defence Staff's Strategy Advisory Panel. He has published on African history, medical anthropology, European politics and on military and strategic issues.
Eryl Besse (Welsh board member)
Mrs Besse is a native Welsh speaker. She has over 30 years' experience of the practice of law in 3 international law firms. She was a partner at both Linklaters and Debevoise & Plimpton, where she had a track record of completing large, complex, time sensitive projects. She has had experience in a number of civil society organisations and is currently a Member of the Development Committee, Campaign Board at Magdalen College School, Oxford.
In announcing the appointments, Minister for the Cabinet Office Francis Maude said:
This is a time of great change and opportunity for the charitable sector with its organisations now rightly involved in many areas of public services delivery. The need for a strong regulator to protect the public's confidence in that work is vital. So I am pleased to make these new appointments to strengthen the Commission's board with a new set of skills, knowledge and experience.
William Shawcross, Charity Commission Chair said:
I am delighted to welcome these new board members to the Commission and I greatly look forward to working with them. I would also like to thank those current members of the board who are departing for the invaluable service they have given the Commission. We had some 280 applicants for the vacancies we are filling - such a response is gratifying. It shows how many people are willing to commit themselves to the effective regulation of the charitable sector. I am confident that our new board will be able to do just that.
Notes to editors
All of the new board members will be appointed for a 3 year term and will take up their posts on the following dates: Peter Clarke (13 May), Claire Dove (1 July), Orlando Fraser (16 July), Tony Leifer (13 May), Nazo Moosa (13 May), Gwythian Prins (3 June) and Eryl Besse (3 June).

Under Paragraph 1(2)(c) of Schedule 1 to the Charities Act 2011, the minister is required to consult the Welsh Government before appointing a board member with knowledge of conditions in Wales.

The recruitment followed the Commissioner for Public Appointments Code of Practice, and its principles of fairness, merit and openness. The Code of Practice requires the disclosure of relevant and declarable political activity. Mr Fraser declared that he had provided assistance to the Conservative party in developing its policy for the voluntary sector in 2008 to 2009. No other appointed candidate declared any political activity in their application.
Published 22 May 2013
Last updated 22 May 2013
+ show all updates
First published.
Updated to include the latest board member, Eryl Besse