News story
New board appointment at DFID
Richard Keys has been appointed as a non-executive board member and Chair of the Audit Committee at DFID.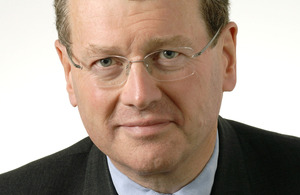 The Department for International Development has appointed Richard Keys as a non-executive board member and Chair of the Audit Committee.
Richard Keys, former Global Chief Accountant at PwC, has been appointed non-executive director on the DFID board and chair of the Audit Committee. He is a Fellow of the Institute of Chartered Accountants in England and Wales spent 37 years at PwC before leaving in 2010.
Richard is also a Non-Executive Director at Sainsbury's Bank, a member of the Council of the University of Birmingham and a member of the Audit and Risk Committee at Royal Botanic Gardens, Kew.
Richard has been recruited to advise on the integrity of financial information and on financial controls, systems and risk management.
Mark Lowcock, DFID's Permanent Secretary said:
"I am delighted that Richard is able to bring his considerable experience and talent to help guide DFID's work in the future.
"I look forward to working closely with him to ensure Britain's aid continues to save countless lives while achieving the very best value for money".
Vivienne Cox remains DFID's lead non-executive board member. DFID is in the process of recruiting further non-executives to join Vivienne and Richard.
Published 13 March 2013