New Basketball Arena showcases Olympic Park as best of UK plc
Government to maximise 2012 economic growth opportunities with overseas investment drive.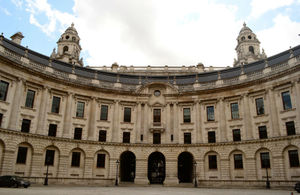 The successful delivery of the Olympic Park can play an important part in the Government's growth agenda, Culture Secretary Jeremy Hunt said today as he set out plans to help maximise opportunities overseas from the Games.
Speaking on the day that construction of the 12,000 seat Basketball Arena was completed, Mr Hunt stressed the importance of ensuring the Games benefits the whole of the UK, attracting new business and more visitors from overseas. 
"Construction of the temporary 12,000 seat Basketball Arena has been finished with more than a year to go and within budget," said Mr Hunt. "This is the fifth venue to be completed and follows the White Water Centre at Broxbourne, Velodrome, Olympic Stadium and Handball Arena."
"This is a fantastic achievement and further evidence that the Olympic Park is fast becoming a showcase for the best of UK plc - great design, engineering, construction and project management. There is no doubt that it will be a fitting stage for the world's greatest athletes next year."
DCMS has appointed creative communications agency Mother to work with partners across Government to co-ordinate and develop communication activity overseas before, during and after 2012. In the first instance this will focus on tourism and trade and investment opportunities from 'One Year to Go' (27 July 2011).
Further information
Published 9 June 2011