New approach to leadership of major public projects
Francis Maude unveiled plans for a new Major Projects Leadership Academy, which will be created and delivered in partnership with Oxford's Said Business School, today in London.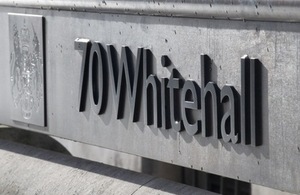 7 February 2012
 
Senior leaders working on government major projects, such as the Olympics and High Speed Two, will be the first to benefit from the government's groundbreaking new approach to major taxpayer-funded projects, the Minister for the Cabinet Office, Francis Maude, announced today. 
Francis Maude unveiled plans for a new Major Projects Leadership Academy, which will be created and delivered in partnership with Oxford's Said Business School, today in London. The new academy will build the skills of senior project leaders across government to deliver complex projects - reducing the over-reliance on expensive external consultancy further and building expertise within the Civil Service. In future no one will be able to lead a major government project without completing the Academy.
Major public sector projects are large and complex by nature - their scale, complexity and ambition unmatched in the private sector. The Olympics is the best known example of a major project and programme affecting the whole of the UK, but similarly: the Universal Credit Programme will revolutionise the welfare system, for 8 million households; the Electricity Market Reform Programme is the government's response to the expected doubling of demand on this market by 2050; and Crossrail and High Speed Two are just two examples of huge current investment in the future of the UK's transport system. 
However the Academy will draw lessons from other sectors and projects, and has been developed in close collaboration with the government's Lead Non-Executive Director Lord Browne of Madingley. While leading BP, Lord Browne created a project academy jointly with MIT which resulted in more projects being delivered on time and within budget. Those are the sorts of benefits the government wants to achieve for major projects in government.
The Academy will be managed by the Cabinet Office Major Projects Authority (MPA), which was launched in 2010 to oversee major projects and ensure they deliver for taxpayers. The MPA's current portfolio of projects contains over 200 projects and is worth around £400 billion. The MPA has already saved £147 million by reviewing the government's biggest projects to see where costs could practically be reduced within contractual constraints, or wasteful projects stopped altogether.
Minister for the Cabinet Office, Francis Maude, said:
When it comes to major projects, this government means business. Taxpayers need to know that major projects will be delivered on time and to budget. We do have impressive expertise in the public sector at the moment, but we want to take a long term view and build this within Whitehall. Crucially, this will relinquish taxpayers from having to foot the bill for external consultancy to deliver the projects and services the country needs.
"This is an important step in our plans to reform the Civil Service - we want to build world-class project leadership skills within government. Starting with our current leaders, we will develop a generation of professionals that are internationally recognised for their skill and expertise.
Sir Bob Kerslake, Head of the Civil Service, said:
The Civil Service is about a lot more than policy - it's about implementation and delivery - making a real difference to people's lives. I believe passionately in the ability of the civil service to drive through these big projects, without always having to turn to expensive external consultants. The Leadership Academy will provide them with the skills and tools they need to manage these programmes successfully, ensuring they are delivered on time and on budget.
Lord Browne of Madingley and Lead Non-Executive Director said:
The government non-executive programme was created to act as a bridge between the UK government and some of our most successful companies. The MPLA is exactly the sort of radical, innovative programme that we hoped would result from the appointment of our new breed of non-executive.
Dr Paul Chapman, Academy Director at Said Business School said:
As you would expect from Oxford, we take an intellectually rigorous approach to addressing the three primary themes of the Academy: Major Project Leadership, Technical Understanding of Major Project Delivery and Commercial Capability, and we will also focus on the practical skills necessary to develop senior practitioners that can deliver very large and complex projects on time and on budget.  For example, we will expose participants to the ideas, experiences and best practice from world-class major project leaders and academics.  This means we will further enhance and build the skills of the already capable project leaders that enrol on the Academy and ensure the programme remains relevant to them and the wider Civil Service.
Major projects are defined as any government project that is large and complex enough to require Treasury sign-off for funding. The new Leadership Academy is designed to make sure that these projects have world-class leadership. It will be delivered in partnership with Said Business School and Deloitte, bringing international expertise to the Academy. 
The Cabinet Office drew on international experience from both the public and private sectors in creating the programme, and found that while some international governments have leadership certifications for certain areas, the UK government will be the first to introduce this sort of mandatory senior training across its entire major project portfolio.
Notes to editors
The full Academy programme will start in October 2012. Two staggered cohorts of approximately 25 people each will enter the Academy every year. Participants can expect the following:
A one year formal Academy programme covering three primary themes: Major Project Leadership (50%), Technical Understanding of Major Project Delivery (25%) and Commercial Capability (25%).
Assessment of relevant competences before starting the programme, to identify      individual learning priorities for the year.
Three residential modules of 5 days each, interspersed with more tailored learning, e.g. action learning in groups of 5 to 10 peers, and mentoring/coaching if appropriate to address learning priorities.
Teaching and learning that is 60% practical and 40% theoretical/academic, i.e. cohort interaction through team and case study exercises and face to face exposure and access to world-class project leaders.
Competence assessment at the beginning and end of the academic programme, resulting in a personal development plan identifying learning priorities for the following two years.
Participants will be required to undertake a series of complex assignments and meet a challenging level of assessment. Mere attendance does not guarantee  successful completion of the programme.
Membership of the Academy business partner's alumni network for at least five years, enabling interaction with private and public sector peers, academics and business leaders, as part of continuous professional development.
Membership of the MPA's support network for leaders of major projects in government.
Involvement in building the government's cadre of Major Project leaders, e.g. as mentors to future Academy cohorts and alumni.
Published 7 February 2012