Press release
New appointments made at the Care Quality Commission
The Care Quality Commission (CQC) has appointed five senior figures with a wide variety of professional experience to become new Non-Executive Directors, Care and Support Minister, Norman Lamb, announced today.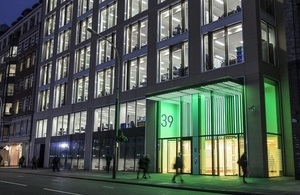 The successful appointees are:
Dr Jennifer Dixon, chief executive of the Nuffield Trust;

Camilla Cavendish, an award-winning journalist and Associate Editor of the Sunday Times;

Professor Louis Appleby, currently national clinical director for offender health, and Professor of Psychiatry at Manchester University;

Paul Corrigan, former health policy advisor to Tony Blair and former special advisor to Alan Milburn and John Reid. He is adjunct professor at Imperial College Institute of Global Health; and

Michael Mire, currently a senior partner at McKinsey & Company, where he has over 30 years of experience. The CQC regulates all health and adult social care services in England, and the organisation makes sure that essential standards of quality and safety are being met where care is provided, from hospitals to private care homes. The CQC also has a wide range of enforcement powers to take action on behalf of people who use services if services are unacceptably poor.
Care and Support Minister, Norman Lamb said:
I am pleased to be welcoming these five new non-executive directors to the Care Quality Commission.

Between them, the candidates have a breadth of experience and knowledge that will allow them to contribute valuable insight and input to the Board and I am sure they will use their skills and experience to benefit the work of the Commission.

Undoubtedly, they will command the confidence and respect of key stakeholders and will bring a new perspective to these major national roles.
David Prior, Chair of CQC, said:
This is a critical time for the future direction of CQC as we implement new and better ways of working.

I recognised when I joined CQC that a priority was to strengthen the board so that commissioners could provide effective support and challenge to the chief executive and his executive team.

The appointment of these five board members who have a huge range of experience between them will help us become a world class regulator of health and social care. I am delighted they are joining us.
Background
For media enquiries please ring the Department of Health social care desk on 020 7210 5821

This appointment is made in accordance with the Code of Practice for Ministerial Appointments to Public Bodies, issued by the Commissioner for Public Appointments. All appointments are made on merit and political activity played no part in the selection process. However, in accordance with the original Nolan recommendations, there is a requirement for appointees' political activity (if any declared) to be made public. Dr Corrigan has been politically active for the Labour Party. Prof. Appleby, Ms Cavendish, Dr Dixon and Mr Mire have declared no current political activity.

Dr Jennifer Dixon is chief executive of the Nuffield Trust and has just completed a review into ratings for health and social care. She is a former member of the Healthcare Commission board, a former advisor to the NHS chief executive, and the former director of policy at the Kings Fund. She is also a fellow of the Royal College of Physicians.

Camilla Cavendish is an award-winning journalist, Associate Editor of the Sunday Times and is currently leading the Cavendish Review, an independent review into the training and support of healthcare assistants. She has been an analyst at McKinsey & Co, Chief Executive of the South Bank Employers' Group and assistant to the Chief Executive at Pearson Plc.

Professor Louis Appleby is currently national clinical director for offender health, having been national director for mental health from 2000-2010. He is professor of psychiatry at the University of Manchester. He developed the national suicide prevention strategy for England.

Paul Corrigan is a former health policy advisor to Tony Blair and former special advisor to Alan Milburn and John Reid. He is adjunct professor at Imperial College Institute of Global Health.

Michael Mire is currently a senior partner at McKinsey & Company, where he has over 30 years of experience. He has focused on retailing, financial services and transformation. He is retiring from McKinsey this year.

They will each receive £7,883 per annum for a time commitment of 2 to 3 days per month.

For further information on the CQC visit the CQC website
Published 5 June 2013