News story
New appointments for the Sea Fish Industry Authority
Three new appointments have been made to the Sea Fish Industry Authority's board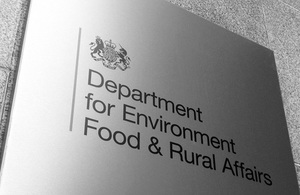 Three new appointments have been made to the Sea Fish Industry Authority's (Seafish) Board.
Seafish is a levy-funded industry body, which promotes the sustainability and efficiency of the sea fish industry. Brian Young, Alison Austin OBE and Jonathan Shepherd will help steer the industry body when they join the Board for a three year period from 1 April 2015. Brian has been appointed as Deputy Chair and Alison and Jonathan have been appointed as board members.
Seafish is sponsored jointly by the four UK fisheries administrations and the appointments were made by George Eustice, Minister for Farming, Food and Marine Environment at Defra; Richard Lochhead, the Cabinet Secretary for Rural Affairs, Food and the Environment in Scotland; Michelle O'Neill, the Minister for Agriculture and Rural Development in Northern Ireland; and Carl Sergeant, the Minister for Natural Resources in Wales.
Appointments to the Seafish board are made on merit in accordance with the Code of Practice issued by the Commissioner for Public Appointments. There is also a requirement for the political activities of appointees to be made public, and Brian, Alison and Jonathan have declared that they have not engaged in any political activity in the last five years.
The Ministers thanked outgoing Deputy Chair Jane Ryder and Board members Michel Kaiser and Philip Huggon for their contribution to Seafish's work over several years.
Further information on the new Board members
Brian Young
Brian is a qualified chartered management accountant and currently a non-executive director of the Beverley Building Society where he serves on the Assets & Liabilities and Audit & Risk Committees. He is the Beverley Building Society's chairman designate and will assume the role on 27 April 2015. Brian has been chief executive of the British Frozen Food Federation since 2006, following a business career with RHM Foods, Sara Lee, Tryton Foods and Sundora Foods. He is a non-executive director of Thera Trust, a charity that has been supporting people with a learning disability since 1998.
As an appointed Seafish board member Brian will relinquish his role as chairman of the Seafish Importers and Processors Panel.
Alison Austin OBE
Alison has more than 25 years of consumer affairs experience, having led sustainability, environmental, food safety, corporate and public affairs work for Sainsbury's supermarkets. Alison established her own consultancy practice in 2009. Alison is a Trustee of the Waste and Resources Action Programme (WRAP) and was a member of the Sustainable Access to Inshore Fisheries Advisory Group (SAIF). She was awarded the OBE in 2000 for services to sustainable development.
Jonathan Shepherd
Jonathan developed his industrial career with companies in the UK and overseas, including Omega Protein Inc (USA), BioMar AS (Denmark) and Marine Harvest (UK). He is a former director general of the London-based International Fishmeal and Fish Oil Organisation. Jonathan's industrial career followed an early, academic pathway. Holding a veterinary science degree and a PhD in aquacultural economics, he was deputy director of Stirling University's Aquatic Pathobiology Unit and has advised governments in India, Africa and the Food and Agriculture Organisation of the United Nations.
Published 17 March 2015