New appointment to National Crime Agency
A new senior appointment has been made to the National Crime Agency (NCA).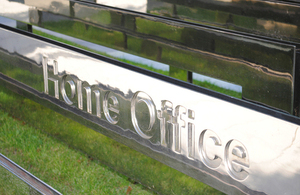 Gordon Meldrum has been named Director Designate of the Organised Crime Command as the new agency continues to take shape.
He moves from his current role as Director General of the Scottish Crime and Drug Enforcement Agency.
Home Secretary Theresa May said: 'The National Crime Agency will transform the UK's ability to tackle serious, organised and complex crime and protect the public.
'Getting the senior leadership team in place early is critical to ensure the NCA is ready to become fully operational later this year. I congratulate Gordon Meldrum on his appointment and look forward to working with him.'
Mr Meldrum will lead the formation of the Organised Crime Command to ensure it makes an immediate impact when the NCA is formally established.
NCA Director General Keith Bristow welcomed today's appointment. He said: 'The Organised Crime Command will use the best conventional crime fighting techniques and will pioneer new and inventive ways of cutting crime and disrupting and bringing criminals to justice.
'We were looking for an exceptional crime fighter to drive this element of the NCA, and in Gordon Meldrum we have recruited just such a leader. I am delighted that the experience and high performance he brought to the SCDEA will now come into the NCA senior team.'
Organised crime costs the public between £20 billion and £40 billion each year.
The NCA will be responsible for tackling these crimes, which include child exploitation, drug and people smuggling, illegal immigration, fraud and cyber crime.
It will operate as a single agency built around four distinct 'commands' - Organised Crime, Border Policing, Economic Crime and Child Exploitation and Online Protection. The agency will also house the National Cyber Crime Unit. It will be fully operational by the end of 2013.
Published 11 January 2013