New anti-trafficking initiative launched on anti-slavery day
A new initiative to help cabin crew spot signs of human trafficking was hailed today by Immigration Minister Damian Green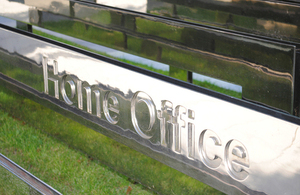 During a visit to Heathrow Airport to mark Anti-Slavery Day, the Minister saw how Virgin Atlantic is providing its cabin crew with special training on identifying those who may be engaged in trafficking and their potential victims and how to report them to authorities before arrival in the UK. 
Virgin Atlantic is the first airline to work with the UK Border Agency on training for cabin crew - a goal set out in the government's Human Trafficking Strategy published in July.
Immigration Minister Damian Green said:
'We have already made significant progress on the commitments we made in our Human Trafficking Strategy to do more to tackle this issue and this initiative provides us with another powerful tool to help combat it.
'I am delighted that Virgin Atlantic is leading the way in providing this training for staff and I would strongly encourage other airlines to step up and join the fight.'
The Virgin pilot project includes an e-learning package that raises awareness amongst staff about the issues surrounding human trafficking and details the indicators to look out for during a flight. 
Cabin crew, who are in a prime position to identify both victims and traffickers, will have access to a 24-hour helpline to report concerns to the UK Border Agency.  This will ensure that officers can meet the flight and question the individual concerned allowing law enforcement agencies to take action against traffickers and provide support to the victims of trafficking.
Julie Southern, Chief Commercial Officer of Virgin Atlantic said:
'Human trafficking is a real and serious problem and Virgin Atlantic is proud to be the first airline to support this important initiative.
'We are working hard to raise awareness amongst our cabin crew who are in a unique position to look out for any behaviour which might cause concern.
'In the coming months we will be offering all of our 3,500 crew the chance to take the training package and would encourage other airlines to introduce programmes of their own.'
During his visit to Heathrow the Minister witnessed first-hand the work of the multi-agency Operation Paladin team. Paladin sees the police working in close partnership with the UK Border Agency and local authorities to ensure vulnerable children are identified and protected at our borders.
Additionally, since the Human Trafficking Strategy was published in July, the government has:
started a new programme in West Africa providing authorities in Ghana, Senegal and Nigeria with training to improve trafficking investigations and help with successful prosecutions;
identified nine priority countries which will be the focus of our fight against trafficking before they reach the UK; and
started work with the Foreign and Commonwealth Office and the Department for International Development to identify other areas for engagement in these nine priority countries to prevent trafficking before it happens.
Notes to editors
1. The pilot with Virgin Atlantic is being carried out in collaboration with UKBA, SOCA, UKHTC and the Home Office.
2. The e-learning package has been created by software firm BYG, which provided it free of charge.
3. The nine priority countries are: Nigeria, China, Vietnam, Romania, Czech Republic, Slovakia, Uganda, India and Albania.
4. The Human Trafficking strategy can be accessed from the Home Office website at http://homeoffice.gov.uk/crime/human-trafficking-strategy/
5. The voluntary training pilot is being evaluated by Sheffield Hallam University.
Published 18 October 2011