New ANA training centre opens in Helmand
The official opening ceremony of a new training centre for Afghan troops in Helmand province took place on Saturday 30 April 2011.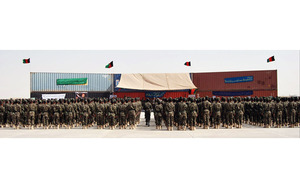 The training centre is in Camp Shorabak, adjacent to Camp Bastion. A tri-Service team of UK personnel is based at the centre to assist in the training and mentoring of the Afghan National Army (ANA) instructors who run the course.
Colonel Shah Wali, Commander of the Regional Military Training Centre, hosted the VIPs who attended the ceremony, including General Sherin Shah, Commander of the 3rd Brigade of 215 Maiwand Corps of the ANA.
Over 800 Afghan soldiers (known as warriors) were on parade - the first recruits to complete the regional basic warrior training course - as well as a smart colour party carrying the Afghan flag.
The quality of the Afghan recruits and the dedication of the ANA training team has impressed the British troops, who partner and mentor the Afghan trainers:
They had over 800 recruits arrive for the first course," said Sergeant Major Marty Huxter, from 2nd Battalion The Royal Regiment of Scotland, "and they've only had to send one home. That's pretty good.
Captain Christian Wragg, 2nd Battalion The Duke of Lancaster's Regiment, another member of the British contingent, agreed:
These are ordinary guys from all over Afghanistan and this eight-week course is quickly turning them into effective soldiers. The Afghan trainers took our outline for the course, modified it, and have really made it their own - and that's extremely encouraging.
The opening ceremony was almost overshadowed a few days earlier when a fire broke out in the camp's brand new cookhouse. As Sergeant Major Huxter explained:
A bit of adversity just brought the multinational team at the training centre closer together - the Brits all grabbed fire extinguishers and got stuck in, fire-fighting. As far as the Afghan soldiers were concerned it really showed that we were all in it together, and we really cared about their facility.
Published 3 May 2011