New Afghan Army Counter-IED Team demonstrates skills
The Afghan National Army's (ANA's) newly-formed Counter-Improvised Explosive Device (C-IED) Team recently demonstrated their proficiency in front of the ANA's 3/215 Brigade Commander, General Sherin Shah, and Task Force Helmand Commander, Brigadier Patrick Sanders.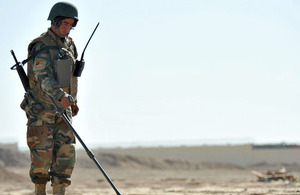 The demonstration was also watched by the Commanding Officers of the UK's Engineering Group and the Explosive Ordnance Disposal and Search Task Force who have been mentoring the Afghan team.
The ANA's C-IED Team has been built up from bare foundations in just a few years.
There are now highly-trained C-IED operators and instruction in C-IED awareness for Afghan warriors during their initial training.
In recognition of how far they have come in such a short time, members of the ANA were presented with ISAF certificates of commendation by General Sherin Shah.
Captain Nathan Blencowe, Royal Engineers, is the British officer mentoring the ANA C-IED Team. He said:
Having successfully completed months of technical Explosive Ordnance Disposal [EOD] training at the Engineering School in Mazar-e Sharif, northern Afghanistan, the bravest and most competent soldiers are assigned to the most challenging and busiest area of operations, namely Helmand province.
The highly skilled and courageous EOD operators from 3/215 Brigade have been honing their techniques alongside their ISAF counterparts for the last couple of months and are now eager to deploy on their first independent operation after much hard work.
Lieutenant Colonel Jason Rhodes, the Commanding Officer of Task Force Helmand's EOD and Search Task Force, said the event had demonstrated the progress being made by Afghan forces. He added:
Sadly, the insurgents' employment of IEDs is now commonplace; but we are developing a new breed of Afghan bomb disposal heroes to join the fight over the coming months, and their progress is highly encouraging.
We very much hope to accelerate the selection and deepen the development of these police officer and warrior volunteers who are keen to get on with the task and serve the community. Proud, determined and courageous, it is an honour and a privilege to serve alongside them.
Published 9 January 2012