New accommodation puts Dover military school top of its class
A brand new accommodation block has been completed at the Duke of York's Royal Military School, in Dover which it's hoped will improve life for the teenage students living there.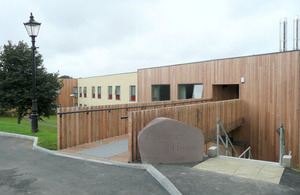 Centenary House is a 60 bed accommodation block, funded by the Army as part of work to upgrade the school's boarding accommodation, which will be home to sixth-formers who previously had to share living quarters with younger pupils.
Working with its regional industry partner PriDE, Defence Estates (DE) has delivered a building designed specifically for pupils over 16, with each bedroom having en-suite facilities. Students will also have a large common room and laundry facilities within the building.
Attached to the new accommodation block, there is also a four-bedroom family property for the house master and a one-bedroom flat for the deputy house master.
Headmaster Charles Johnson said:
We are enormously excited by the opportunities which Centenary House will provide for our most senior pupils. We hope that with the careful supervision of a dedicated Sixth-form housemaster and his team, our Year 13 pupils will be better prepared both academically and socially for their life after school.
The new accommodation has also been built to meet high sustainability standards. It has an environmentally-friendly sedum roof, rain water harvesting, solar collectors, bio-mass boiler and sun tubes. By making the building more efficient, these measures will help minimise the carbon footprint and ongoing running costs of the building.
DE has already helped the school boost its eco-credentials with the first grid-connected wind turbine installed on the military estate. The wind turbine provides the school with a long-term sustainable electricity supply. It also creates an educational tool for the school's pupils to learn more about carbon reduction technologies and renewable energy.
DE Project Manager Phil Keeble said:
Defence Estates' priority is to support our Armed Forces and their families. We have enjoyed a close working relationship with our partners on this project and the reward is a fantastic building with which the young adults now resident are thrilled.
Integrating a construction project on boarding school premises, whilst incorporating educational needs and recognising the historical importance of both site and buildings was hugely challenging, but the end result is a great success.
Published 20 September 2010