Press release
New £500,000 government fund to help community groups reduce energy bills and manage energy
12 community energy projects are set to receive up to £500,000 as a boost from the Cabinet Office and the Department for Energy and Climate Change.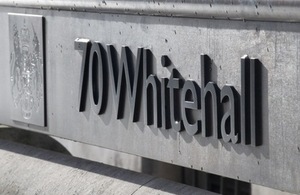 The government is keen to support the development of community energy projects to show how social action can help people reduce their energy bills. The community energy sector is growing, with increasing numbers of new projects being developed. However, smaller energy groups often work in isolation, with no formal networks for skills sharing or mentoring with larger more established organisations.
That's why, today, the government has awarded groups between £10,000 and £50,000 so they can form consortia, giving larger groups the resources to mentor others.
The chosen projects range from:
a community forum that provides workshops and assistance to communities to generate power using hydro energy
a social enterprise that sets up study visits and seminars for local community groups so they can reduce their fossil fuel energy use by using sustainable wood sources
training volunteers in reducing energy usage so they can make home visits to older people and audit their home energy use and make improvements
training volunteers in Birmingham to help the Somali community switch to solar energy and use energy-saving light bulbs to reduce levels of fuel poverty
visiting mosques to help Muslim communities become more energy efficient
Minster for Civil Society Nick Hurd said:
We want to support community energy groups to help each other. That's why we are investing £500,000 so that larger projects can help smaller groups get off the ground and more people can learn how to make energy cost savings.
Secretary of State for Energy and Climate Change Ed Davey said:
This new fund will give aspiring communities access to the cash they need to help kick start hundreds of clean, green energy projects.

Not only can community energy projects boost local economies and drive forward green growth, they can also help save money on energy bills too.
The groups receiving funding are:
Youth Community Energy Catalysts
National Association for Areas of Outstanding Natural Beauty
My Green Investment C.I.C.
BioRegional Development Group
London Sustainability Exchange
Repowering Limited
Wiltshire Community Land Trust Ltd
Northfield Ecocentre (part of Central England Quakers)
Sheffield Renewables Limited
The Thornbury Centre
Ouse Valley Energy Services Co Ltd
Middleport Environment Centre (MEC)
The Cabinet Office's Centre for Social Action supports the most effective non-profit projects that tackle persistent community issues. It will commit £36 million to addressing local problems which can benefit from community participation such as volunteering, mentoring or peer-to-peer support.
EDF Energy are supporting this initiative and are looking to provide the groups with mentoring support in business management on a pro bono basis.
Published 12 March 2014