New £5 million 'payment by results' deal to get rough sleepers off London's streets
An innovative new 'payment by results' scheme to help London's persistent rough sleepers off the streets and into secure homes was launched …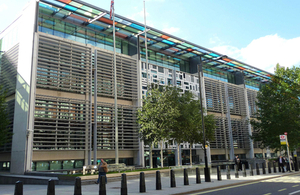 An innovative new 'payment by results' scheme to help London's persistent rough sleepers off the streets and into secure homes was launched today by Housing Minister Grant Shapps and London Mayor Boris Johnson.
Building on the progress made by the Mayor's London Delivery Board and the capital's charities in tackling homelessness over the last three years - including a three-quarters reduction in the number of entrenched rough sleepers in the capital - this new funding will be used to deal specifically with persistent rough sleepers half of whom come from overseas and who are often facing multiple challenges including drug, alcohol or mental health problems.
In a 'payment by results' deal known as a Social Impact Bond, each charity will receive a share of this funding - but how much will depend on the success of their new projects.
The criteria they will be measured against include:
reducing the proportion of regular rough sleepers returning to London's streets
reducing admissions to hospital Accident and Emergency Units; and
increasing the number of rough sleepers moved into settled accommodation and employment.
Grant Shapps said:
We have made great progress but if we are to have any hope of ending rough sleeping for good we must take a new approach. That involves stopping those without a bed from coming to London in the first place.

But it also means using innovative schemes such as Social Impact Bonds to make sure the best charities are rewarded for success in securing stable homes and jobs. That's why I'm backing those organisations with new ideas for helping persistent rough sleepers with a new £5million payment by results scheme, to ensure that these charities who pull out all the stops are rewarded for their efforts.

I am determined to back those who work tirelessly to get people off the streets and into stable homes and jobs, and whose efforts will bring us ever closer to ending rough sleeping for good.
London Mayor Boris Johnson said:
In just three years we have made some real strides towards ending rough sleeping in London. We have already helped three-quarters of the capital's most entrenched rough sleepers off the streets and seen a massive reduction in the number of people spending a second night outside. 

However much remains to be done if we want to reach our goal of ending rough sleeping in London this year and we must get out there and help those persistent rough sleepers, often battling with hugely complex addiction and mental health problems, to find a new life off the streets.
Notes to editors
1. This new incentive fund, known as a Social Impact Bond, will be administered by the Greater London Authority.
 
2. The Government has provided a £400million grant for preventing homelessness.
3. The Government is also providing £18.5million for councils to help tackle and prevent rough sleeping among single people, ensuring that nobody is turned away without clear and useful advice when they are most in need.
4. The Government and the Greater London Authority are also working closely with foreign embassies to minimise the problem of foreign nationals sleeping rough, with embassies making it easier for rough sleepers to get the documents they need and providing advice and assistance to their citizens in both the UK and in their home countries.
5. A breakdown of rough sleeping in London by the Combined Homelessness and Information Network, showing that over half of London's homeless are from overseas, can be found at: www.broadwaylondon.org/CHAIN/Reports/StreettoHomeReports.html (external link).
Social Finance completed a feasibility study for the Greater London Authority and the Department for Communities and Local Government to assess the use of a Social Impact Bond to improve outcomes for a cohort of people who are frequent returners to rough sleeping in London. The study was supported by the Young Foundation who mapped existing rough sleeping services and identified core principles for a new model of individualised support services.
Twitter
Keep up to date with the Department by following us on Twitter (external link).
Media enquiries
Visit our newsroom contacts page for media enquiry contact details.
Published 7 March 2012