News story
New £2m fund to help older people stay healthy next winter
The new funding will help community and volunteer-led projects provide extra support to older people next winter.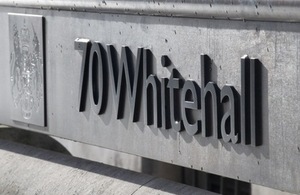 The fund will support volunteer-led projects to play a vital role in helping older people stay healthy or recover quicker from illness. These projects can in turn help avoid unnecessary pressure on A&E services or delayed discharges from hospital.
There are already a number of volunteer-led programmes providing support in this way. These include:
discharge schemes that help older people make the transition from hospital to home
well-being initiatives carried out by community-based volunteers to keep older people healthy, including nutritional improvements, exercise programmes and community engagement
Minister for Civil Society, Nick Hurd said:
We want to make sure that older people have the support they need next winter. There is already some excellent work being done in the voluntary sector and this partnership is about finding the best programmes and supporting them to do more.

It is also about building a case to encourage more commissioners to look at the wider role that the voluntary sector can play in supporting people in their own homes.
About the fund
The fund is now open for applications, and the programme will run this winter until March 2015.
The Social Investment Business Group administers the fund on behalf of:
the Cabinet Office's Centre for Social Action, which supports programmes that encourage people to create positive change through social action
the National Tripartite, a group made up of NHS England, Monitor, the Trust Development Authority and the Association of Directors of Adult Social Care, set up in May 2013 to work on local improvement plans for A&E standards
The Social Investment Business Group
The Social Investment Business Group (SIB Group) is the largest social investor in the UK. It exists to help social enterprises, charities and community organisations support the people and communities that are most in need.
The SIB Group manages:
the Futurebuilders Fund, Social Action Fund and the Investment and Contract Readiness Fund on behalf of the Office for Civil Society in Cabinet Office
the Social Enterprise Investment Fund for the Department of Health
the Communitybuilders Fund, endowed to parent charity the Adventure Capital Fund by the Department for Communities and Local Government
Published 23 April 2014