Press release
New £20 million fund now open to help victims of domestic abuse
This new fund will be used to increase refuge spaces and other accommodation for women fleeing domestic violence.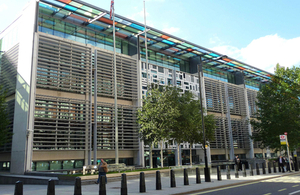 Local authorities can now bid for a share of a £20 million fund to support victims of domestic abuse, Communities Secretary Sajid Javid has announced today (3 November 2016).
This new fund will be used to increase refuge spaces and other accommodation for women fleeing domestic violence. From ensuring that victims have somewhere safe to live and recover, to providing education, employment and life skills training, the fund will support a range of services to help victims rebuild their lives.
New 'Priorities for Domestic Abuse Services' are also being published, setting out how local authorities should be responding to domestic abuse in a collaborative and effective way.
This means putting the victim first, providing flexible services that meet their needs and collaborating with other councils to open up services to victims from outside the local area. Clear and accountable local leadership should bring together all local services with a process for independent scrutiny to ensure care is informed by survivors' voices and needs.
Communities Secretary Sajid Javid said:
Domestic abuse knows no barriers. It can happen to anyone of us, at any time. Our £20 million fund is designed to increase refuge spaces and ensure that no victim is ever turned away from the essential support they need.
Communities Minister Lord Bourne said:
We are determined to support victims of domestic abuse, that's why our £20 million fund will ensure that local authorities can work with charities to help those who really need it.
Today's announcement is making available the first wave of the £40 million dedicated to supporting victims of domestic abuse at Spending Review 2015.
This is part of the government's £80 million Violence Against Women and Girls (VAWG) Strategy, which sets out that prevention, not crisis response, should be the norm.
The Strategy is clear that real change will only happen at the local level and through the new Priorities for Domestic Abuse Services the victim will be put first, with the essential support of specialist accommodation.
Due to the complex nature of domestic abuse, it cannot be addressed by one agency alone. Therefore funding is only available for local areas that are collaborating with others, from specialist domestic violence service providers to a range of councils; ensuring help is at hand for victims who have been forced to leave their homes.
Not all victims will have the same needs and this fund is also seeking to address the needs of diverse communities, including BME victims and those from isolated communities, so they can access support and help.
Applicants are required to submit bids no later than 5pm on 16 December 2016 to DomesticAbuse.Fund@communities.gsi.gov.uk.
Further information
Spending Review contained new dedicated, long term funding of £40 million to support victims of domestic abuse. As part of this, the £20 million fund is now inviting bids for work in 2016 to 2018, led by local authorities working in partnership with service providers.
This is on top of the steps taken by government to end domestic abuse, support victims and ensure offenders are prosecuted. Including:
new powers and laws - a new domestic abuse offence to capture coercive and controlling behaviour, the criminalisation of forced marriage, and the introduction of new stalking laws

the national roll-out of domestic violence protection orders and the domestic violence disclosure scheme

£3.5 million provided in 2015 that funded 46 successful bids from around the country, providing 710 extra bed spaces

£10 million provided in 2014 to 2016, which benefitted 148 areas, to support refuges across the country and boost provision for vulnerable victims of domestic violence
Office address and general enquiries
2 Marsham Street
London
SW1P 4DF
Contact form http://forms.communiti...
General enquiries: please use this number if you are a member of the public 030 3444 0000
Published 3 November 2016