Neighbours from hell face swifter eviction
Neighbours from hell who cause misery and fear for their fellow tenants could face swifter eviction, under radical plans outlined today by Housing…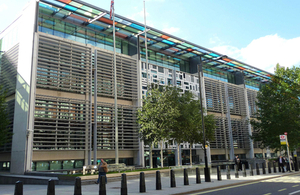 Neighbours from hell who cause misery and fear for their fellow tenants could face swifter eviction, under radical plans outlined today by Housing Minister Grant Shapps.
He announced a package of measures and Government cash towards tackling anti-social behaviour, giving greater support to tenants and landlords.
Currently it can take over a year to remove neighbours from hell, who during that time can cause absolute misery for local residents and bring down the wider neighbourhood.
But Mr Shapps today announced that he plans to strengthen the hand of residents, councils and housing associations to act. So he will introduce a new additional mandatory ground for possession, so those tenants with a track record of anti-social behaviour can be evicted from their council or housing association property much more quickly.
Ministers believe this will lead to a faster and fairer courts process - being found guilty of housing related anti-social behaviour in one court will provide automatic grounds for eviction in the county court, removing the need to prove the incidents of anti-social behaviour for a second time.
To further speed up the courts process, Mr Shapps announced that he would be exploring jointly with the Justice Department whether there were any unnecessary obstacles to the swift resolution of ASB possession cases where serious harm is being caused to individuals and communities.
Mr Shapps has also announced that he will dedicate £300,000 of Government funding to a new central team to help tenants and landlords tackle the blight of neighbours from hell in their communities.
Grant Shapps said:
For too long, too many social tenants have lived in fear of neighbours from hell, whose nasty and vicious behaviour blights their neighbourhoods. Victims and witnesses often have to continue living side by side with the perpetrators while action to evict them drags on for many months and sometimes years.

That's why I want to give hope to these victims that this can and will be stopped. So I will introduce a new mandatory ground for possession, so any tenant convicted of serious anti-social behaviour can be evicted much more quickly. And I'm giving landlords and residents the support they need to reclaim their streets and make their houses feel like homes again.

I want any tenant who comes forward to report anti-social behaviour in their area to get the support they need and deserve. And I want landlords to use the full range of powers at their disposal to tackle this menace head-on, so that the disruptive minority of social tenants don't make everyone else's lives a misery.
Crime Prevention Minister James Brokenshire said:
Anti-social behaviour ruins lives and damages our communities. It is essential those who raise the alarm and ask for help are listened to and their complaints acted upon promptly.

These measures announced today will give greater powers to social landlords and residents to take a firm stand against the bullies and the troublemakers who commit persistent anti-social behaviour and help protect some of the most vulnerable victims from sometimes daily abuse.
Mr Shapps will also clarify the rules around the use of 'probationary tenancies', which are normally offered to new tenants for up to a year. The Minister will look to reassure housing associations that they have the same freedoms as council landlords to provide longer 'probationary' tenancies. That will mean all social landlords can be confident that they can extend these less secure tenancies for new tenants by up to six months, giving them the extra time they may need to be certain that these new residents treat their home, and their neighbours, with respect.
The Government is also reviewing the anti-social behaviour tool and powers available to the police, councils and social landlords and will publish a consultation on proposed changes shortly.
Action already taken includes launching a new trial in eight police force areas for handling complaints of anti-social behaviour, which will help to quickly identify and protect the most vulnerable victims. The Government has also appointed Baroness Newlove as Champion for Active, Safer Communities to help drive up confidence in our communities.
Notes to editors
Examples of residents who've stood up to their neighbours from hell include:
Tina Tomlinson from Sheffield, who faced months of anti-social behaviour from her neighbour. Almost immediately after moving in August 2009, the neighbour regularly made threats to kill Tina, and attempted to force her way into Tina's flat. Sheffield Homes obtained an ex-parte injunction, but this did not stop the abuse - noise monitoring equipment installed in Tina's flat recorded over 37 hours of threats. In January this year, police and environmental protection officers visited the flats, where they were sworn at and the neighbour threatened to "knife" Tina. Sheffield Homes resorted to adding additional security and providing wardens to escort Tina into her home safely. The neighbour was sentenced to 90 days in prison, during which Sheffield Homes obtained a possession order, and she was finally evicted in May this year.
Dorothy Stenhouse is in her early eighties, and from Derby. Her next-door neighbour regularly had noisy arguments and fights with his carer, causing Mrs Stenhouse sleepless nights and distress. The neighbour and his carer were also responsible for defacing many garden plants and displays, upsetting other residents. But Mrs Stenhouse also suffered at the hands of her downstairs neighbour, who after being asked to turn down his music, reacted violently and repeatedly smashed her hand between his door and door frame. Mrs Stenhouse's landlord, Derby Homes, has taken legal action against all three perpetrators, and their efforts to reclaim the properties has been strengthened by Mrs Stenhouse spending a whole day giving evidence in court against her neighbours.
We are also announcing today that ownership of the Respect Standard setting out best practice on preventing and tackling ASB is being transferred from DCLG to the housing sector. The Chartered Institute of Housing, working closely with the Social Landlords Crime and Nuisance Group and other key partners will lead on an early review of the Standard's content, name and any 'sign-up' arrangements. See the CIH news release for more details: www.cih.org/news/view.php?id=1340 (external link).
Twitter
Keep up to date with the Department by following us on Twitter (external link).
Media enquiries
Visit our newsroom contacts page for media enquiry contact details.
Published 11 January 2011