Nearly half a million new sexual infections in 2012
New sexually transmitted infection diagnoses rose 5% in 2012 according to PHE data, mostly due to improved data collection.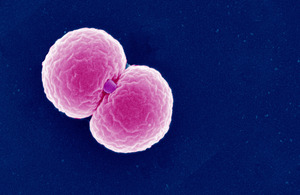 New sexually transmitted infection (STI) diagnoses rose 5% in 2012 (up to 448,422 from 428,255 in 2011) according to Public Health England (PHE) data published today (5 June, 2013), mostly due to improved data collection. However, the continuing high STI rates in England suggest too many people are still putting themselves at risk through unsafe sex, especially young adults and men who have sex with men (MSM).
Chlamydia remained the most commonly diagnosed STI (206,912; 46%), but considerable numbers of genital warts (73,893; 16%) and genital herpes (32,021; 7%) cases were also reported last year. New gonorrhoea diagnoses rose 21% overall (from 21,024 in 2011 to 25,525 in 2012), and by 37% in the MSM population (to 10,754).
High gonorrhoea transmission rates are concerning as the global threat of antibiotic resistance grows. Ensuring treatment resistant strains of gonorrhoea do not persist and spread remains a public health priority, and the Gonorrhoea Resistance Action Plan for England and Wales was launched by PHE to help tackle this threat in early 2013.
Those aged under 25 experienced the highest STI rates, contributing 64% chlamydia and 54% of genital warts diagnoses in heterosexuals in 2012. Young adults are advised to test for chlamydia annually or on change of sexual partner, as part of the National Chlamydia Screening Programme to control the infection and its complications. In 2012, over 1.7 million chlamydia tests were undertaken and over 136,000 diagnoses made.
Dr Gwenda Hughes, PHE head of STI surveillance, said,
There have been significant improvements in screening in recent years, particularly for gonorrhoea and chlamydia among young adults and men who have sex with men, so we are diagnosing and treating more infections than ever before.

However, these data show too many people are continuing to have unsafe sex, put themselves at risk of STIs and the serious consequences associated with infection, including infertility. Ongoing investment in programmes to increase sexual health awareness, condom use and testing, particularly for groups at most risk, is vital.

We must also ensure chlamydia screening remains widely available. Local authorities should continue to integrate chlamydia screening into broader health services for young adults. This will also help this age group develop positive relationships with services, enabling them to develop and maintain good sexual health throughout their lives.
Professor Kevin Fenton, PHE director of health and wellbeing, said,
Public Health England welcomed the Department of Health's 'Framework for Sexual Health Improvement in England' published earlier this year, setting out a range of ambitions. We are committed to improving the nation's sexual health, with a focus on the groups most at risk, and will provide local authorities and clinical commissioning groups with data on local health needs, coupled with evidence-based advice on STI prevention and sexual health promotion approaches, to improve risk awareness and encourage safer sexual behaviours.

Getting screened for HIV and STIs can lead to early diagnosis and treatment, as often these infections have no symptoms. In addition, reducing the number of sexual partners and avoiding overlapping sexual relationships can reduce the risk of being infected with an STI.
Individuals can also significantly reduce their risk of catching or passing on an STI by:
Always using a condom when having sex with casual and new partners.
Getting tested regularly if in one of the highest risk groups:

Sexually active under 25 year olds should be screened for chlamydia every year, and on change of sexual partner.
MSM having unprotected sex with casual or new partners should have an HIV/STI screen at least annually, and every three months if changing partners regularly.
Notes to editors
For more information please contact the national PHE press office on 020 8327 7901 or email infections-pressoffice@phe.gov.uk. Out of hours: 0208 200 4400.

Annual STI data compiled for England from genitourinary clinics, and from other community-based settings screening for chlamydia. Full 2012 STI dataset available here from Wednesday 5 June, 09.30. For chlamydia screening and diagnoses 2012 data, please visit the NCSP website.

Changes to PHE data collection methods in 2012 mean caution is required when comparing 2012 figures with data from previous years, including the total annual number of new STI diagnoses.

In addition to unsafe sexual behaviour, other factors that have contributed to the rise in STI diagnoses over the last decade include: * increased chlamydia screening * increased use of more sensitive molecular diagnostic tests for genital herpes diagnosis * increased use of nucleic acid amplification tests (NAAT) for gonorrhoea diagnosis (particularly for screening asymptomatic MSM at extra-genital sites)
* improvements in sexual orientation reporting in recent years, leading to a greater number of diagnoses being assigned to MSM than previously

Public Health England is a new executive agency of the Department of Health that took up its full responsibilities on 1 April 2013. PHE works with national and local government, industry and the NHS to protect and improve the nation's health and support healthier choices and will be addressing inequalities by focusing on removing barriers to good health. To find out more visit our website www.gov.uk/phe or follow us on Twitter @PHE_uk.
PHE press office: National Infection Service
PHE press office, infectious diseases
61 Colindale Avenue
London
NW9 5EQ
Published 5 June 2013