Navy's newest Astute Class submarine named
The name of the Royal Navy's newest, most capable Astute Class submarine has been formally announced today - HMS Anson.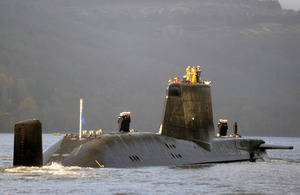 HMS Anson is the fifth in her class, and is being named after Admiral of the Fleet George Anson (1697-1762) who is noted for his circumnavigation of the globe and his role overseeing the Royal Navy during the Seven Years' War.
The Secretary of State for Defence, Dr Liam Fox, said:
I am pleased to announce that Astute Class Submarine Hull 5 is to be named HMS Anson. She will join HMS Astute, HMS Ambush, HMS Artful and HMS Audacious.
The Astute Class submarines, which will progressively replace the Swiftsure and Trafalgar Classes from this year, are extremely sophisticated, deep-diving, high-speed submarines.
Displacing 7,400 tonnes and measuring 97 metres from bow to propulsor, they are significantly larger than their predecessors but need fewer crew to operate them.
They are capable of fulfilling a range of maritime military tasks undreamed of by the strategists of previous generations and combine qualities of stealth, endurance and flexibility which afford the submarines unparalleled freedom to operate worldwide.
Technically they are capable of circumnavigating the globe without surfacing and with the advance of nuclear technology they never need refuelling.
Regarding their capabilities, Dr Fox said:
The seven Astute Class boats planned for the Royal Navy are the most advanced attack submarines ordered by the Ministry of Defence, with improved firepower and communications, and the ability to operate stealthily for extended periods.
The crew also benefit from greatly improved accommodation and facilities. The boats will undertake a wide range of tasks in support of military operations worldwide, including deploying Tomahawk cruise missiles and intelligence-gathering.
Published 15 September 2011