Navy medic looks after Royal Marines in Helmand
Military medic Tanya Wilson has swapped the wards of the Queen Alexandra Hospital in Portsmouth for the front line in Afghanistan where, for the past five months, she has been accompanying Royal Marines on patrol.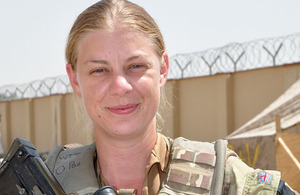 Medical Assistant (MA) Wilson is currently serving in Helmand province as the medic for J Company, 42 Commando Royal Marines.
Having joined the Royal Navy in 2008, MA Wilson was last year offered the chance to attach to the Royal Marines for their six-month tour of Afghanistan, and she jumped at it.
Since arriving in Nad 'Ali back in April, MA Wilson has been busy taking part in regular patrols and operations with the men of J Company. She says it's been quite challenging:
The work out here is so different to what I do at the hospital. I see a lot more primary healthcare and constantly feel on standby, waiting for something to happen. It means it's quite stressful because you can never properly relax or be off duty.
Over the course of the deployment, MA Wilson has had to deal with serious life-threatening injuries from improvised explosive devices, and other wounds sustained by the troops in combat on the ground.
As well as providing immediate first aid at the scenes of incidents, she has also found herself treating the Marines for less serious ailments:
When I'm back at the patrol base, I treat the guys for all sorts of things that might be bothering them. We've seen quite a lot of heat injuries too, which isn't surprising given the conditions.
During the summer, temperatures in Afghanistan can reach up to 50 degrees Celsius, and MA Wilson says the heat has been the hardest thing to get used to; especially when she and the Marines have to conduct patrols in full body armour, and carry up to 35kg of kit.
For MA Wilson, that comprises mostly medical equipment that she might be required to use when out on the ground:
The weight is heavy but I need to make sure I have everything, in case anything happens while on patrol. I can't complain really because what I carry isn't anything compared to the amount of stuff the guys have to have with them.
MA Wilson, who was born in South Africa, is looking forward to coming home to West London and catching up with her friends and her fiance, Alex, who she is due to marry next year. However, she says she's really enjoyed her experience:
It's been really tough at times but the best thing about working with the Marines, and J Company in particular, is their professionalism, banter and the morale they provide. They've really made me feel part of their team.
Published 17 August 2011