Navy 'Junglies' reunite with US crews from Libya ops
UK and US helicopter crews who flew together in support of NATO operations in Libya last year have reunited briefly at RNAS Yeovilton in preparation for Exercise Joint Warrior next week.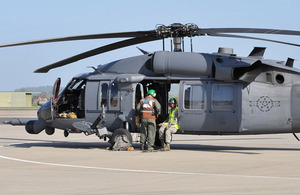 845 Naval Air Squadron (845 NAS) hosted 30 personnel from the 56th Rescue Squadron (RQS) of the United States Air Force, who brought with them two HH-60 Pave Hawks - the search and rescue version of the H-60 Blackhawk.
845 NAS, one of two Commando Sea King squadrons known as the 'Junglies', are old friends of the Pave Hawks and 56 RQS from Operation ELLAMY, where they flew together from HMS Ocean off the Libyan coast.
The Pave Hawk is designed to carry out day or night operations into hostile environments and rescue stranded personnel as a search and rescue aircraft. Because of its versatility, the aircraft can also be tasked to take part in civil search and rescue, emergency medical evacuation or disaster relief.
As part of their reunion, the Pave Hawk crews practised landing on the Royal Fleet Auxiliary ship Argus in the English Channel:
We were able to accomplish a great deal of training while at Yeovilton," said Lieutenant Colonel Jon Cary, 56 RQS Operations Officer.

We managed more than 80 deck landings on RFA Argus and this was due, in large part, to the support from 845 Naval Air Squadron and the Commando Helicopter Force.
56 RQS, who are based out of RAF Lakenheath in Suffolk, as part of the United States Air Force in Europe, are also known to the Commando Helicopter Force crews out in Afghanistan, where they operate under the 'Pedro' callsign, playing a valuable role in lifting wounded soldiers of all nationalities to the nearest hospital facilities.
During the visit, a chance to take a closer look at each other's kit and equipment, and discuss recent deployments was high on the agenda.
Building on their HMS Ocean experience, the US aircrews were keen to learn more about the Commando Sea King Squadrons:
Not only am I in awe of the aircraft, I also think their work extracting casualties from the Green Zone in Afghanistan must be one of the most rewarding pilot jobs around," said 845 NAS Sub Lieutenant Fred Durrant, who hosted the USAF crews.
Exercise Joint Warrior, where the air crews will meet again, is the largest bi-annual European naval exercise, and will be hosted by the Royal Navy off the west coast of Scotland.
Published 11 April 2012