Navy helicopters help seize heroin in Helmand
Over 2,000 pounds (900kg) of heroin and two bomb-makers have been intercepted in Afghanistan with the help of the Royal Navy's Sea King helicopters - known as the 'eyes in the sky'.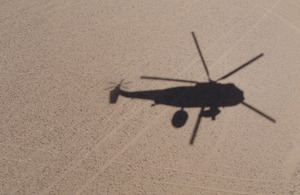 Ground troops intercepted drug runners trying to smuggle 2,200 pounds (1,000kg) of heroin after being guided by naval aviators and their Sea Kings bristling with state-of-the-art sensors.
And, in another incident, the Navy Sea Kings led US Marines of the 2nd Light Armoured Reconnaissance Battalion to apprehend two bomb-makers suspected of producing improvised explosive devices.
The 'Baggers', as the distinctive Sea King Mk7 Airborne Surveillance and Control helicopters from 854 Naval Air Squadron are known, are based at Camp Bastion, and fly on average one mission a day, using the aircraft's state-of-the-art radar in its large grey 'bag', which gives the Sea Kings their nickname, to track movements thousands of feet below on the ground.
The aircraft, crews, maintainers and engineers ensure that the Baggers, which have flown more than 1,000 missions over Helmand since they arrived from Royal Naval Air Station Culdrose in Cornwall back in May 2009, are constantly ready to support the international mission.
Commander Pat Douglas, Commander of the Maritime Sea King Force - 849, 854 and 857 Naval Air Squadrons, as well as 771 Naval Air Squadron and HMS Gannet's Search and Rescue Flight - said that, by working as part of a larger team that includes UK and coalition troops in the air and on the ground, his men and women are scoring successes nearly every week, be they drugs busts, arrests of insurgents or arms and bomb hauls.
The Baggers' most recent successes include:
tracking vehicle movements in southern and central Helmand to provide near-real-time information to ground troops and disrupt insurgent supply routes and drug-smuggling activities
helping the US Marine Corps to seize 2,200 pounds of heroin, prompting US commanders to comment 'Sea King support is invaluable in denying freedom of movement to insurgents and smugglers'
tracking a suspicious vehicle and sharing information with other coalition reconnaissance aircraft which meant that US Marines intercepted and captured two experienced insurgent bomb-makers.
Commander Douglas said:
We are strangling the insurgent lines of communication. Almost weekly there's a seizure of heroin, arms and the ingredients for improvised explosive devices which could claim many more lives.
We fully understand what we're achieving. The Baggers are unique, they are on the spot, they can react quickly, they're working with people they know and they're having an impact.
Commander Douglas also commented on the physical demands the helicopter crews face in Helmand:
In early October it's 42 degrees Celsius by day in Bastion. Inside the helicopters it's 50 degrees Celsius. By the time the aircrew have walked to their Sea Kings with all their kit on and climbed in, they are soaked in sweat. Then they are flying demanding six- and seven-hour missions. They are exhausted by the time they return.
The ground crews work exceptionally hard too in the same dusty and hot environment. The Sea Kings are airborne 180-hours-a-month, supported by a very small team, but it is a rare day indeed when all the aircraft are not available to be flown when needed - frankly a Herculean effort from the maintainers.
Two front line Bagger Naval Air Squadrons (854 and 857) take it in turns in Afghanistan; 857 Naval Air Squadron have just returned from HMS Ocean where they played a key part in Apache strikes against pro-government forces in Libya by monitoring the air and sea space to make sure the gunships could pounce on their targets in secret.
Published 11 October 2011