Nature vital to our health, wealth and happiness
The true value of the UK's wildlife and habitats has been revealed today in two research reports published by Defra.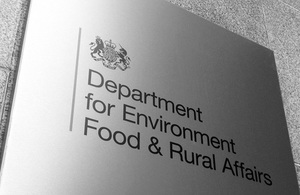 The reports estimate the wildlife covered by the UK Biodiversity Action Plan and Sites of Special Scientific Interest (SSSI) is worth approximately £1.5 billion per year to the UK.
Environment Minister Lord Henley said:
"Our wildlife is vital to our health, wealth and happiness and not simply window-dressing, but for too long we've taken it for granted.
"The truth is so different - our natural environment is essential to achieve long-term sustainable economic growth and we must all know it's true value if we are to protect it properly."
The two reports - 'The Benefits of Sites of Special Scientific Interest in England and Wales' and 'Economic valuation of the benefits of ecosystem services delivered by the UK Biodiversity Action Plan' - examined a variety of ways through which people benefit from efforts to protect wildlife and habitats in a number of ways.
How we consume what are called 'provisioning services', such as food, timber and fresh water - for example, the Lower Usk River provides a source of fresh water for local communities as well as migration corridors for fish species including the valuable Atlantic salmon.
How people appreciate and enjoy the cultural benefits provided by biodiversity, such as tourism, education, recreation and general enjoyment of the outdoors.  The Ashdown Forest, the 'real' Hundred Acre Wood that was home to Winnie the Pooh, is just one area open for public enjoyment and attracts three-quarters of a million visitors a year.
How nature supports 'regulating services', such as water purification, flood alleviation, regulating the climate, maintaining air quality and storing carbon dioxide, which save taxpayers and businesses money that would otherwise have to be spent creating these services artificially.  The lowland bog in Dyfi is helping us understand the effect of natural landscapes and their management on carbon sequestration, and the Ynyslas spit, together with the Aberdyfi dunes, provide an important sea defence function.
Martin Harper, RSPB conservation director, said:
"These reports highlight how, if properly managed, the most important places for wildlife in the UK deliver a range of additional benefits from clean air and water to flood defence, carbon storage and recreation.
"They reveal that the public is clearly willing to pay for these benefits, and that money spent on protecting nature is money well spent.  Every £1 spent on maintaining Sites of Special Scientific Interest delivers benefits to society worth more than £8.
"This complements the recently published National Ecosystem Assessment which demonstrated why investing in nature repays us many times over and why looking after the environment is not only important for wildlife, it is also key to the long term  health of our economy.
"There is a timely reminder here that, even in an age of austerity, any reduction in effort and investment in our SSSIs would be a false economy."
The surveys improve understanding of how members of the public value biodiversity and establish the 'willingness to pay' for different biodiversity features.  Ecological experts were interviewed to help identify the ecosystem benefits that biodiversity provides.
The work also improves understanding of the wider value of nature and how to better protect the benefits it provides, helping to protect against any decline in species, ecosystems and habitats.
The reports published today follow the National Ecosystem Assessment and support the recently published Natural Environment White Paper and England Biodiversity Strategy.
Notes:
The reports can be found at:
http://www.defra.gov.uk/rural/protected/nationally/sssi/.
http://www.defra.gov.uk/environment/natural/biodiversity/uk/.
The Natural Environment White Paper can be found at: http://www.defra.gov.uk/environment/natural/whitepaper/.
The England Biodiversity Strategy can be found at: http://www.defra.gov.uk/environment/natural/biodiversity/.
The National Ecosystem Assessment can be found at: http://uknea.unep-wcmc.org/.
Published 23 August 2011