Natural solutions for tackling health inequalities: conference report
The Institute of Health Equity (IHE) has published a report funded by Natural England, which highlights the growing evidence of the benefits of green spaces on health and wellbeing, and the differences in access to natural environments across England, which contribute to health inequalities.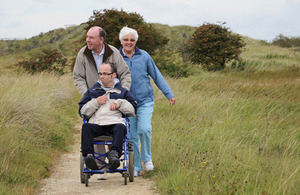 The report has been published following last year's 'Natural solutions to tackling health inequalities' conference, hosted by the national outdoors for all working group. The conference attracted practitioners, academics and policy makers from over 70 organisations involved in health, diversity and environment at local and national levels.
The conference looked at evidence of the benefits of the natural environment to our health and, in particular, to those communities with the greatest need. It made some recommendations to improve inequalities that exist.
Evidence from the conference
The report includes evidence that shows:
older people live longer in areas where there is more green space close to their homes
children who live close to green spaces have higher levels of physical activity and are less likely to experience an increase in BMI over time
people living in the most deprived areas are 10 times less likely to live in the greenest areas
the most affluent 20% of wards in England have 5 times the amount of parks or general green space compared with the most deprived 10% of wards
Duncan Selbie CEO of Public Health England, in his foreword to the report makes the point that: "Recognising the role of the natural environment as a primary determinant of health is, in many ways, the foundation of modern public health. Good health and wellbeing is not solely the absence of illness; the role of the environment we live in is hugely important in shaping our lives and, consequently, our health. So this report is a timely and very welcome contribution to increasing awareness of this amongst practitioners and policy makers, both in the health and environment sectors."
Duncan concludes by saying: "So having access to high quality, local natural environments is critically important to promoting physical health and wellbeing in children and adults. Together, through this report, we have the opportunity to look afresh at what have hitherto appeared to be intractable public health challenges, and share our knowledge and experience of what works so that we can make a real difference to the quality of people's lives."
Dr Jessica Allen, Deputy Director at the IHE, University College London and lead author for the report, in summarising the evidence states: "Overall, better health is related to access to green space regardless of socio-economic status, and income-related inequality in health is moderated by exposure to green space. So, increasing the amount and quality of green space can be part of a low cost package to address health inequalities, improve health outcomes and deliver other benefits."
Evidence from Natural England's monitoring survey
Natural England's Monitor of Engagement with the Natural Environment (MENE) survey also reveals that some social groups visit the natural environment far less frequently than the rest of the population. It is these groups that often suffer the greatest health inequality, and it is these groups that could benefit the most from increased access to the natural environment. Together these communities are a very significant proportion of the English population and their numbers are growing:
black, Asian and ethnic minority groups
people living in deprived areas
people from D-E socio-economic groups
people over 65
people with disabilities
National outdoors for all working group members are now actively working with the health and environment sectors to help implement the report's recommendations.
Published 7 October 2014