Natural England welcomes conviction for illegal poisoning of birds of prey
Natural England welcomes the conviction of a Norfolk gamekeeper for illegally poisoning 11 birds of prey on an estate in 2013.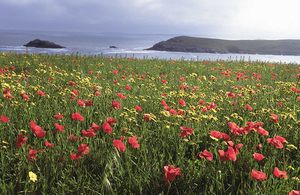 Allen Lambert, 65, who worked on the Stody Estate near Holt, was found guilty at Norwich Magistrates' Court yesterday of two charges relating to killing 10 buzzards and a sparrowhawk and possession of associated pesticides and equipment. The remains of a further five buzzards were found on the estate but these birds were too decomposed for pesticide analysis.
Lambert had earlier pleaded guilty to five other charges including unlawfully possessing nine dead buzzards – a protected species. Sentencing will take place on 6 November.
The offences were discovered in April 2013 by a member of the public, who alerted the RSPB, and by a subsequent inspection of Lambert's sheds and vehicle by a Natural England official, operating under a warrant from the Health and Safety Executive, accompanied by Norfolk Constabulary and the RSPB.
Rob Cooke, Natural England's Director of Sustainable Development, said: "The sheer scale of the offences in this case is shocking and I am dismayed that incidents like this are still occurring. We welcome the conviction and hope it will act as a significant deterrent to others.
"I am pleased that Natural England were able to take part in this successful investigation with Norfolk Constabulary and other agencies, working under the Wildlife Incident Investigation Scheme (WIIS). It demonstrates that together we will not rest until those behind such crimes are brought to justice."
Published 2 October 2014