NATO to assume responsibility for Libyan no-fly zone
NATO has decided to assume responsibility for operating the no-fly zone over Libya which has been set up to enforce United Nations Security Council Resolution (UNSCR) 1973, it was announced last night.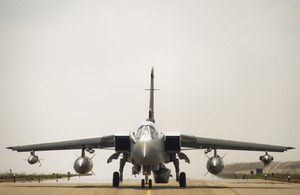 NATO Secretary General Anders Fogh Rasmussen said in a statement:
We will co-operate with our partners in the region and welcome their contributions. All NATO allies are committed to fulfill their obligations under the UN resolution. That is why we have decided to assume responsibility for the no-fly zone.
At this moment there will still be a coalition operation and a NATO operation but we are considering whether NATO should take on a broader responsibility in accordance with the UN Security Council resolution. But that decision has not been made yet.
Through the chain of command NATO and the coalition will ensure close co-ordination and deconfliction.
The UK Government has welcomed NATO's decision to take over responsibility for enforcing the no-fly zone over Libya and also the announcement by the United Arab Emirates (UAE) that they will become the second Arab state, after Qatar, to send warplanes to contribute to the no-fly zone operation.
Prime Minister David Cameron's spokesperson said:
Last night's decisions by NATO and by the UAE demonstrate the strength and breadth of the coalition involved in protecting the people of Libya.
NATO's decision to assume command and control of the no-fly zone, in addition to the arms embargo already being enforced, is a significant step forward and will ensure that the alliance's tried and tested machinery is used to best effect.
The UAE's decision to contribute 12 planes to the no-fly zone operation is evidence of the real and tangible Arab role, building on the leadership the Arab League as a whole showed when they originally led calls for a no-fly zone over Libya.
Britain welcomes both of these important developments. They reinforce international efforts to implement UNSCR 1973 and protect the people of Libya.