NATO names new Senior Civilian Representative to Afghanistan
NATO Secretary General Anders Fogh Rasmussen has announced that Simon Gass will succeed Mark Sedwill as the NATO Senior Civilian Representative in Afghanistan.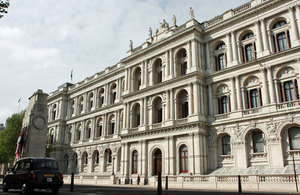 Sir Simon Gass KCMG, currently the British Ambassador to Iran, is to lead NATO's civilian reconstruction efforts in the country and work to improve coordination with other bodies.
He will formally take up this appointment at the meeting of NATO Foreign Ministers in Berlin in April 2011.
The NATO Secretary General said "Ambassador Gass is a highly qualified diplomat who will bring a regional perspective to this important post. He knows how important the civilian and political aspects of NATO's engagement in Afghanistan are, as Afghans start taking the lead for their own security in the first half of this year."
The Secretary General thanked Ambassador Mark Sedwill for his "sterling work".
Simon Gass becomes NATO's fifth Senior Civilian Representative in Afghanistan. He will represent the political leadership of the Alliance in Kabul both officially and publicly. The role of the Senior Civilian Representative is to ensure that governance and development work is closely coordinated with the security effort provided by NATO's International Security Assistance Force, ISAF.
Foreign Secretary, William Hague, said that both he and the Prime Minister warmly welcomed Simon Gass's appointment:
"I am delighted that Simon Gass has been appointed to succeed Mark Sedwill as NATO Senior Civilian Representative. Mark has done an excellent job to help pave the way for security transition in Afghanistan.
"Simon takes up the reins at this critical time as we move towards the start of the transition process. Simon's extensive experience and knowledge of the region will stand him in good stead for the challenges which lie ahead."
Speaking of his appointment, Simon Gass, said:
"We are entering a period of transition in Afghanistan which will be critical for the country's stability and security. I look forward to working in partnership with the Afghan Government and other key actors to make a success of this challenging process so that the Afghan people can enjoy a more secure and prosperous future."
Simon Gass has been the British Ambassador to Iran since early 2009. Before his posting to Tehran, he held a succession of diplomatic posts both in London and overseas, including British Ambassador to Greece, Deputy High Commissioner to South Africa, Finance Director and Board Member of the Foreign and Commonwealth Office. He has also been posted in Rome, Lagos and New York.
Published 9 February 2011